FRANKLIN, Ind. — Morning Pointe of Franklin residents welcomed care and compassion into their homes, courtesy of Center Grove High School students.
The youth were participating in their annual "Day of Caring," visiting with the greater community to bring joy to others. The high schoolers and the seniors enjoyed devotions and crafts, then played a game of volleyball to make for an exciting day for both the residents and the students.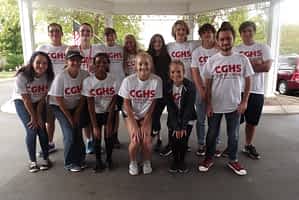 Morning Pointe invites kids of all ages to spend quality time with the seniors, as young and old embrace the many benefits of intergenerational activity as part of the life enrichment and Meaningful Day™ programs.
Photo: Center Grove High School students visited Morning Pointe of Franklin residents on their annual "Day of Caring."