POWELL, Tenn. — Girl Scout troops dared to travel the hallowed halls at Morning Pointe of Powell. The "ghouls" weren't afraid to visit the seniors at the assisted living and Alzheimer's memory care community, who greeted the children in their spookiest, creepiest disguises.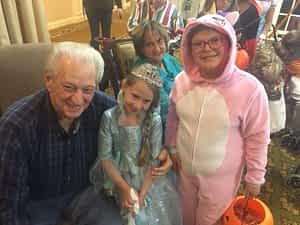 But the kids weren't there for tricks or treats. Instead, they came to give away candy and goodies to each of the residents, as well as toiletries and other keepsakes, all to the seniors' delight.
"The residents were absolutely thrilled and some were even brought to tears by the girls' generosity," says Pat Caron, executive director at Morning Pointe. "This was certainly unexpected and a new twist on our favorite tradition."
Morning Pointe invites the community to celebrate holidays with the residents as part of the life enrichment and Meaningful Day™ programs.
Photo: Girl Scout troops participated in a "Reverse Trick or Treat" with the residents at Morning Pointe of Powell.