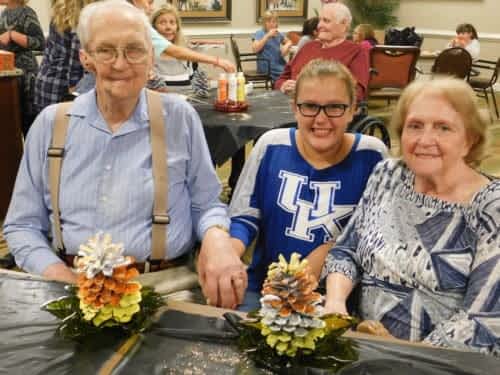 DANVILLE, KY — With fall comes pine cones in one's yard, but these fallen pieces of nature became works of art for the residents at Morning Pointe of Danville and guests from Bethel Baptist Church.
Samantha Yontz, and her group 'Girls in Action', painted large pine cones with the residents at the senior living and memory care community.
As part of Morning Pointe's life enrichment program, the residents invite local organizations and youth groups to enjoy fun, intergenerational activities that both young people and seniors enjoy.
Photo: James and Betty Ramey, Morning Pointe of Danville residents, show off their painted pine cones with Samantha Yontz from the Bethel Baptist Church group 'Girls in Action.'
Click here to learn more about our Life Enrichment and Meaningful Day™ programs at Morning Pointe of Danville.