ATHENS, Tenn. — Guests dared to travel the hallowed halls at Morning Pointe of Athens in search for sweets and spooky stories during the annual costume contest. Visitors weren't afraid to visit the seniors at the assisted living community, who greeted the children with creepy ghost tales and Halloween fun.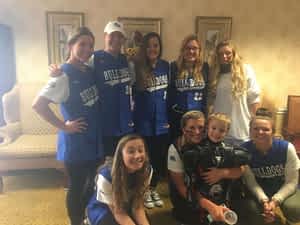 The Tennessee Wesleyan University Softball Team were the judges who named the contest winner Mildred Rogers. She dressed as Sarah Sanderson from Hocus Pocus as played by Sarah Jessica Parker.
Morning Pointe invites the community to celebrate holidays with the residents as part of the life enrichment program.
Photo: Guests of all ages weren't afraid to visit Morning Pointe of Athens for the costume contest. Seniors greeted the children with treats, creepy ghost tales and intergenerational fun.
Photo: TWU Softball Team and local preschooler Jansen Wilson
Photo: Mildred Rogers, Morning Pointe of Athens resident who won the annual costume contest.