FRANKLIN, Tenn. (June 7, 2017) – Independent Healthcare Properties (IHP) and Morning Pointe Senior Living announces the expansion of the Morning Pointe of Franklin assisted living and memory care campus. The Chattanooga-based senior healthcare services company will celebrate the groundbreaking of its second phase of development on the 10-acre campus – the new Alzheimer's Center of Excellence – on June 30, at 10:30 a.m., at its location adjacent to Morning Pointe of Franklin at 1015 Generations Way in Franklin.
Williamson County Mayor Rogers Anderson, Franklin Mayor Ken Moore, Matt Largen, president and CEO of the Williamson County Chamber of Commerce, and Tiffany Cloud-Mann, vice president of programs of the Mid-South Chapter of the Alzheimer's Association, will be among local officials and dignitaries to give remarks during the groundbreaking event.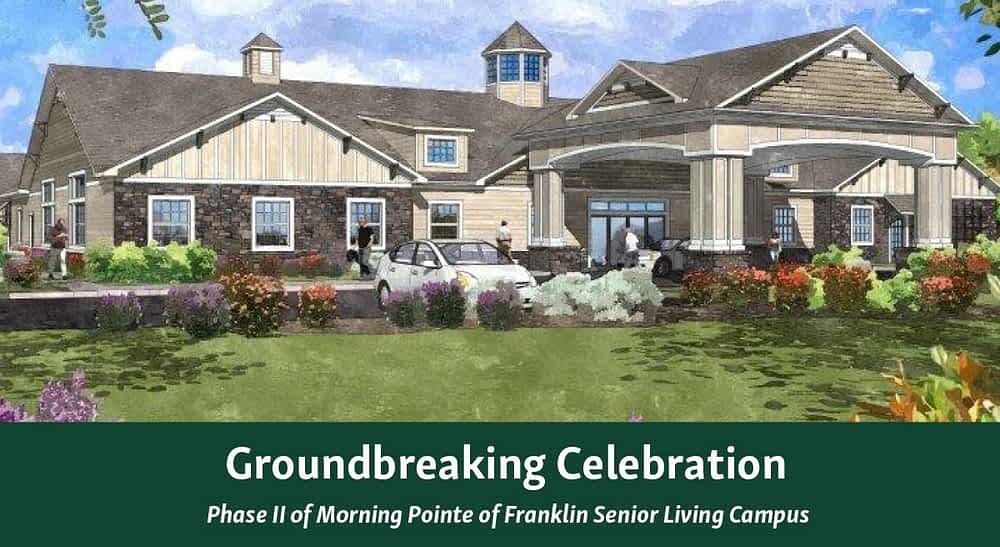 The Lantern at Morning Pointe Alzheimer's Center of Excellence is the second phase of the state-of-the-art senior campus in Williamson County, and will create 200 construction jobs and another 50 permanent healthcare jobs with an estimated economic impact of $15 million.
The new Lantern will provide a continuum of care for residents with a variety of care services for seniors with Alzheimer's disease and memory-related needs in a secure environment. The freestanding, 39,000-square-foot building will feature 44 specially designed apartments, and will offer high quality amenities, life enrichment programs and professional health and wellness services. Innovative and therapeutic programs and the Meaningful Day™ program have been incorporated into daily activities to ensure the highest quality of care. The addition of the memory care community increases the service capacity of the senior campus to 110 residents.
"This expansion of our Franklin senior campus allows us to serve a growing population of aging seniors in Williamson County," says Greg A. Vital, president and CEO of IHP and Morning Pointe. "With an increasing number of people living longer, Morning Pointe continues to give residents and families more options and choices in quality care and customer service."
Morning Pointe is the region's choice for assisted living and memory care, serving seniors in Middle Tennessee for more than 15 years. In addition to the Franklin senior campus, Morning Pointe operates assisted living and memory care communities in Brentwood and Columbia, and will celebrate the grand opening of its Spring Hill location in Fall 2017.