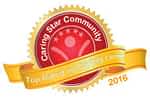 BRENTWOOD, Tenn. (November 14, 2016) – Morning Pointe of Brentwood is proud to be listed as a "Caring Star of 2016" top listing by Caring.com – a leading website for caregivers seeking information and support as they care for aging parents, spouses and loved ones. The assisted living and memory care community is among 254 senior living and in-home care providers in the United States and one of six in Tennessee to receive the annual award.
Caring.com reaches more than three million unique visitors every month and features peer reviews and ratings from senior living communities across the nation. Ratings on the site are trusted more than those found on Facebook or Yelp, according to a recent survey.
"We are honored to have earned a top rating, as our goal is to not only be a premier provider of senior living, but to also make the transition to an assisted living community easier," says Tyner Brooks, executive director at Morning Pointe of Brentwood.
Senior living and in-home care agencies listed on the website earn the top award by meeting all of the following qualifications: 10 or more ratings, three or more ratings between October 1, 2015, and September 1, 2016 (to include one five-star rating) and a response to each negative rating.
"This award is a reflection of our commitment to helping caregivers and families make the best choice," says Page Ensor, regional vice president at Morning Pointe Senior Living. "We strive to ensure that residents remain at the center of the decision-making process."
"Everyone wants the very best care for their loved ones, and Caring Stars helps family members find the providers that have delivered excellent service for others like them," says Karen Cassel, CEO of Caring.com, in a recent press release.
Morning Pointe of Brentwood, located at 1522 Wilson Pike in Brentwood, is the region's choice for assisted living and memory care. The senior care community features 73 spacious apartments, fine dining areas, life enrichment programs, and professional health and wellness services.
Twenty of the apartments are located in The Lantern – a secure wing dedicated to the care of residents with Alzheimer's and other memory care needs. Innovative therapeutic programs promoted by the Morning Pointe team, such as SimpleC™ Companion services, Cuddle Therapy and the Meaningful Day™, are incorporated into daily activities to ensure the highest quality of care for residents. Morning Pointe's community involvement and intergenerational programming give residents limitless opportunities to remain active members of society while maintaining their independence and quality of life.