CLINTON, Tenn. (November 14, 2016) – Morning Pointe of Clinton is proud to be awarded "best assisted living" in Anderson County by readers of The Courier News. Each year, community members cast their votes for the best area businesses and organizations in a number of industry categories.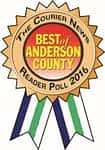 "Morning Pointe is proud to receive this award, as it is a reflection of our commitment to provide premier senior living in Anderson County," says Marcy Pennington, executive director at Morning Pointe of Clinton. "We strive to provide seniors and their families with more options that encourage greater independence and quality of life."
Morning Pointe of Clinton, located at 960 S. Charles G. Seivers Boulevard, is the region's choice for assisted living and memory care. The senior care community features 50 spacious apartments, fine dining areas, life enrichment programs, and professional health and wellness services.
Ten of the apartments are located in The Lantern – a secure wing dedicated to the care of residents with Alzheimer's and other memory care needs. Innovative therapeutic programs promoted by the Morning Pointe team, such as SimpleC™ Companion services, Cuddle Therapy and the Meaningful Day™, are incorporated into daily activities to ensure the highest quality of care for residents.
Morning Pointe's community involvement and intergenerational programming give residents limitless opportunities to remain active members of society while maintaining their independence and quality of life.