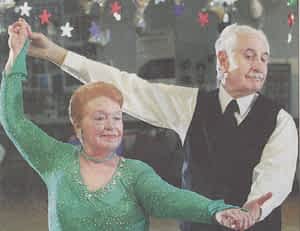 Morning Pointe of Louisville welcomed a performance by the dancers at Blair's Ballroom. Pairs of ballroom performers arrived to dance for the residents — especially James and Janet Warner, a couple residing at the senior living community who were former dancers with the dance company.
Since childhood, Janet always loved to dance. However, James, a country boy, took up ballroom dancing in high school when his teacher told him that the secret to gaining social graces was to learn how to dance, box and swim. Trying all three, he found that "neither one of them compared to dancing," he says.
Janet was learning the Jitterbug, so she took lessons at Arthur Murray Dance Studio where she eventually met James. From their first Foxtrot, they fell in love, marrying 10 months later on September 9, 1950. This September will be their 67th wedding anniversary.
The couple spent their Sundays dancing at Club Madrid and the Rathskeller in the basement of the Seelbach Hotel, and would continue to dance their weekends away until the present day. The duo danced competitively, and their tours would take them to Ohio, Florida, Las Vegas, Boston, Chicago, Atlanta and Louisiana. Even after the addition of seven children, they managed to dance on the weekends.
They were dancing with Blair's Ballroom until recently. The Warners still go to the Friday night dances, but Janet watches from the sidelines these days.
James was asked to dance with Christy, the teacher, floating her across the room beautifully. And Janet put her vintage ballroom gowns out for display.
Photo: Dancers with Blair's Ballroom with Christy, dance teacher, and James and Janet Warner, Morning Pointe of Louisville residents, graced the floor with their ballroom finesse.