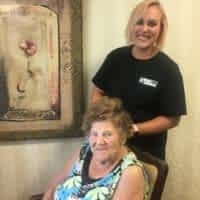 ATHENS, Tenn. — Glitz and glamour were the themes for National Gorgeous Grandma Day, as Morning Pointe of Athens residents received the star treatment.
Sweetwater Institute of Cosmetology has partnered with the assisted living community for the third year, curling hair, doing facials and laying on fresh coats of nail polish to make the ladies shine.
Morning Pointe never misses a moment to celebrate special occasions, as the seniors embrace their unique style and timeless beauty.