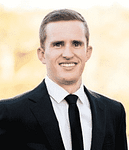 LOUISVILLE, KY (May 5, 2017) – Independent Healthcare Properties (IHP) and Morning Pointe Senior Living is proud to announce new senior leadership for its Louisville campus. Will Otis, MBA, is now the new senior executive director of Morning Pointe of Louisville. Otis' experience in healthcare administration and property management equips him to create a meaningful senior living and memory care experience for residents and their families.
"We are very pleased that Will has accepted this position to lead our Louisville senior living and memory care campus," said Greg A. Vital, president and CEO of IHP and Morning Pointe Senior Living. "His professional background and dedication to enriching the lives of our residents and helping them continue to have meaning and purpose are just a few of the admirable skills that make him the perfect addition to our Morning Pointe team."
The Pennsylvania native received his Bachelor of Science in health science from Southern Adventist University in Collegedale, Tenn., where he also earned his Master of Business Administration degree with an emphasis in healthcare administration. Otis joined Morning Pointe of Collegedale at Greenbriar Cove in 2010, where he started his career as an assistant executive director. He was later promoted to the executive director and senior executive director roles, in which he won awards for excellence in customer service and community of the year, while achieving a number of key occupancy and staff development goals.
In his role, Otis will oversee the operations of the senior living and memory care community, and will provide executive leadership guidance for a freestanding Lantern at Morning Pointe Alzheimer's Center of Excellence that is slated to open in Summer 2017. He says he looks forward to helping families make the best choice for their loved ones in Louisville.
"Senior health is more than a passion to me; it is a calling," Otis says. "Having the ability to serve others and make a difference in the lives of our seniors every day is exceedingly fulfilling."
Otis is a former board member of his local Alzheimer's Association and past-president of the Kiwanis club in Collegedale, Tenn. He operates a small real estate investment company in the Chattanooga, Tenn. area. In his spare time, Otis enjoys triathlons, four-wheeling and spending time hiking with his wife, Sarah, and two dogs.