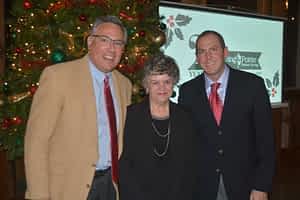 CHATTANOOGA, Tenn. (December 14, 2016) – Independent Healthcare Properties (IHP) and Morning Pointe Senior Living presented the annual Exceeding Expectations Awards to four associates exemplifying exceptional customer service and dedication to senior living and Alzheimer's memory care residents and their families.
Every year, the company acknowledges top performing team members in its 27 communities in Alabama, Georgia, Indiana, Kentucky and Tennessee. Candidates are selected from three regions and the corporate headquarters based in Ooltewah.
Each associate
 received an award, certificate and an all-expenses-paid trip to Chattanooga to be recognized by executive leadership during the company's annual Christmas Party. During the event, Morning Pointe also launched its 20th Anniversary Celebration campaign with a goal to give back 20,000 hours of community service during 2017.
"We appreciate the hard work and dedication of more than 1,300 associates and professionals who help make us the choice for senior living in each community we do business in," says Greg A. Vital, president and CEO of IHP and Morning Pointe. "I couldn't be more proud to honor these four associates who consider Morning Pointe not just a career, but a calling to serve."
---
The 2016 Exceeding Expectations Awards were presented to:
Corporate Office: Mr. Brien Applewhite, Vice President of Asset Management, Independent Healthcare Properties, Ooltewah, Tennessee
Lookout Region: Mr. Bruce Harkins, Maintenance Director, Morning Pointe of Calhoun, Georgia
Bluegrass Region: Ms. Margaret Baldridge, Resident Assistant II, Morning Pointe of Russell, Kentucky
Smoky Mountain/Cumberland Region: Ms. Debra Shelton, Receptionist, Morning Pointe of Louisville, Kentucky