On the anniversary of D-Day, Fletcher Williams, a 94-year-old resident at Morning Pointe of Richmond (KY) Senior Living and World War II Veteran, made a voyage across the Atlantic to revisit the grounds where he once served. While there, he received an award and certificate for his service during that historic battle that took place more than half a century ago.
"As part of the Life Enrichment Program, we celebrate the unique stories of each of our residents," says Kathy West, Life Enrichment Director at Morning Pointe. "Fletcher's contribution to our country is such an inspiration to our senior living community, and we are honored to have him and other veterans as a part of our family."
Williams said he was inspired to travel to France after a conversation with his nephew, Ronald Hale, also a veteran, who said he wanted to travel overseas. Hale said he would take Williams to visit Normandy someday; that "someday" was this past June.
It would be the first time Williams had visited the French coastline where the infamous battle took place 72 years ago. Back then, the 20-year-old Williams and other troops of the 82nd Airborne Division 325th Glider Infantry boarded a British military glider and crash landed in the French region as they made their way to Utah Beach on foot to fight the German forces.
This time, he and his nephew flew from Detroit, Mich., making a safe landing in Normandy. When they arrived, they were welcomed by the kind townspeople of Sainte-Mère-Église — the French commune where Williams was once stationed.
He and his nephew visited museums, monuments and historic sites that chronicled the fight of the century, and the command centers used by the German forces — now empty concrete structures encased in moss.
"We saw all of Hitler's bunkers," Williams said. "All is still intact and inoperative."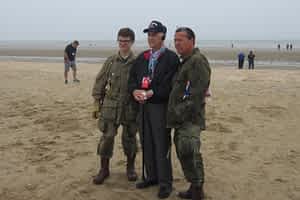 During his week-long tour of the town, he received much respect from the people of Sainte-Mère-Église. Much to his surprise, Williams returned home to Richmond with an award and certificate from the Mayor of the French commune for his service during the war.
"I enjoyed the trip," Williams said. "It was well worth my time."
Photo: Fletcher Williams, Morning Pointe of Richmond Senior Living (KY) resident and veteran in the 82nd Airborne Division 325th Glider Infantry revisits his past, as he and his nephew, Ronald Hale (not pictured) toured the French countryside where he and other troops crash landed 72 years ago. Williams is pictured in a British military glider much like the one he and other troops boarded. Gliders are stealth aircrafts designed to deliver troops and equipment to combat zones. While gliders are still used in military training, the aircrafts are no longer used in combat.