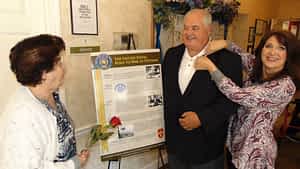 COLLEGEDALE, Tenn. – During a Nov. 10 Veterans Day Luncheon at The Lantern at Morning Pointe Alzheimer's Center of Excellence, Collegedale, tears welled up in the eyes of resident Evelyn Delaney, who witnessed her pinning of her son, Jim Delaney. This was the first Vietnam War recognition for Jim, who shed many tears of his own.
As Susan Harris with the Chickamauga Daughters of the American Revolution performed the pinning honors, Jim became one of millions of Vietnam War veterans to be commemorated through a federal mandate.
In 2012, President Barack Obama issued a proclamation to honor Vietnam War veterans through the year 2025. To honor the 50th Anniversary of the war, The White House calls
for federal, state and private organizations, and the community-at-large to acknowledge those who served during that era.
The Lantern at Morning Pointe of Collegedale was honored to be the stage for Jim's pinning as well as the recognition of all veterans and their spouses at the memory care community. As part of The Lantern's Meaningful Day™ program, men and women of the Armed Forces and their families receive special recognition for their sacrifices through annual observances.
"Every year it is our honor to have this opportunity to tell veterans and their spouses that we are grateful for what they have done for our nation," says Dawn Dunn, Lantern program director.
Several special guests attended the reception, including the Chattanooga Composite Squadron Civil Air Patrol, and members of the Chapter 203 Vietnam Veterans of America who performed the 21-gun salute.
"We enjoy doing this program here at Morning Pointe, to meet the veterans at the memory care community, and give honors for all that they have done for us," said Jackie Clark on behalf of the chapter.