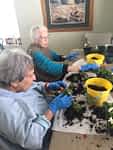 CALHOUN, Ga. — Morning Pointe of Calhoun residents enjoyed "garden therapy," sinking their fingers into topsoil to create adorable flower arrangements. But these blooms weren't just for the seniors to enjoy. Instead, the assisted living and memory care residents took their garden gifts to Gordon County Hospital, bringing cheer to the nurses on each floor of the healthcare facility.
But these acts of kindness are nothing new for the residents. As part of the life enrichment program, Morning Pointe is partnering with local organizations to pay it forward, and giving residents the opportunity to put their lifelong talents and crafts to use for the greater good as part of a yearlong community service campaign. Called "Make Your Mark," the company-wide volunteer effort aims to give back 20,000 hours of community service in 2017.
Photo: Julie Moore, Sue Moyer and Patricia Glasser, Morning Pointe of Calhoun, GA residents, deliver potted flowers to Theresa Smith, Gordon County Hospital nurse.
Photo: Sam White and Sue Moyer, Morning Pointe of Calhoun, GA residents, enjoyed potting plants to deliver to nurses at Gordon County Hospital.