DANVILLE, KY — Morning Pointe of Danville residents Pat Chipps and Coach Joe McDaniel are no strangers to golf. So they were delighted by a treat to tee time at the Old Bridge Golf Course by Morning Pointe associates Nicole Walton, life enrichment director, and Sherry Brown, Lantern program director.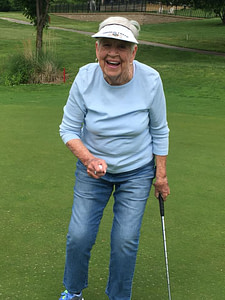 The two residents at the personal care and Alzheimer's memory care community made new memories on the course, embracing their pastimes in every swing.
Behind every Meaningful Day™ is a team of associates who are making a difference in the lives of seniors.To learn more about associates who are making their mark, visit www.morningpointe.com/makeyourmark.
Learn more about how seniors are celebrating each day at Morning Pointe of Danville.