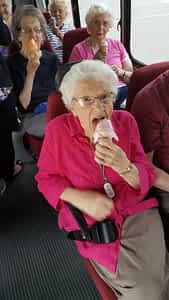 RUSSELL, KY — Morning Pointe of Russell residents enjoy a timeless treat at Austin's Ice Cream — a historic local ice cream shop in Ceredo, WV.
The restaurant, which opened in 1947, is famous for unique flavors, such as pineapple grape. The shop has been owned by the Synder family since 1983. The restaurant is open for a limited time every year, welcoming customers from April to October. This May, the residents at the senior living community were just in time, making the 30-minute trip across the Kentucky-West Virginia border to grab a cone.
Morning Pointe embraces local, regional traditions as part of the life enrichment program. The senior living and memory care community makes trips to various attractions such as museums, libraries, parks and eateries that blend taste with tradition.