CHATTANOOGA, Tenn. (November 11, 2016) – From flag retirement ceremonies, to pinning commemorations, Morning Pointe Senior Living communities in Chattanooga, Collegedale and Hixson honored the men and women of the Armed Forces for their service.
Special guests and dignitaries, elected officials, non-profit organizations, students from area schools and members of the community came together to thank veterans residing at the assisted living and memory care communities.
As part of Morning Pointe's life enrichment and Meaningful Day™ programs, veterans and their families receive special recognition for their sacrifices through annual observances.
During a Veterans Day Luncheon at The Lantern at Morning Pointe Alzheimer's Center of Excellence, Collegedale, tears welled up in the eyes of resident Evelyn Delaney, who witnessed the pinning of her son, Jim Delaney, Vietnam War veteran who received his very first recognition for his service.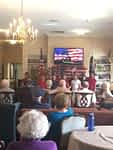 In addition, Mrs. Connie Reynolds' fifth-grade class at Ooltewah Adventist Kindergarten School sang patriotic songs at The Lantern at Morning Pointe of Collegedale. This is the fourth year that the class visited the memory care community to thank the veterans for their service.
"Every year it is our honor to have this opportunity to tell veterans that we are grateful for what they have done for our nation," says Dawn Dunn, Lantern program director.
Prayers and patriotic songs were heard from Morning Pointe of Chattanooga at Shallowford during a special luncheon. Commemorative hats were given to each of the veterans during the event. Residents and volunteers at The Lantern at Morning Pointe Alzheimer's Center of Excellence, Chattanooga planted miniature American flags along the lawn to honor their husbands, wives, sons and daughters who made sacrifices for their nation.
"Today, we were proud to honor all veterans for the service they provided to keep our country safe," says Chris Lindberg, Lantern program director. "But at Morning Pointe, we are thankful all year long for our veterans and for American freedom."