Morning Pointe's "Caregiver Cafe" Explores Compassion Fatigue
OOLTEWAH, Tenn. — Professional and family caregivers gathered at the Greenbriar Cove Clubhouse in Ooltewah to attend the Caregiver Cafe Speaker Series "Compassion Fatigue: Dementia and Depression" presented by the Morning Pointe Foundation and Parkridge Health System.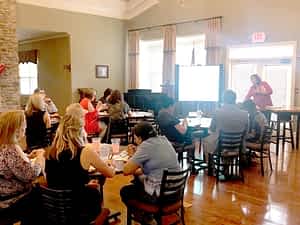 The free public awareness event was hosted in partnership with the Morning Pointe of Collegedale at Greenbriar Cove assisted living and Alzheimer's memory care campus. Experts from Parkridge Valley Dr. J. Eric Carter, primary care physician, and Tracy Rollinger, LCSW, manager of social services, led the discussion which explored depression, dementia, and healthy solutions to cope.
"We sincerely thank Parkridge for the opportunity to connect healthcare experts with trained and untrained caregivers," says Lori Hoeger, director of the Morning Pointe Foundation. "It is a privilege to be a resource as we navigate the changing phases of dementia care for loved ones."
The Morning Pointe Foundation is the philanthropic arm of Morning Pointe Senior Living. Founded in 2014 by senior healthcare entrepreneurs Greg A. Vital and J. Franklin Farrow, the 501(c)3 public service nonprofit provides nursing scholarship opportunities, forms community partnerships and supports caregivers in its mission to advance the care of seniors.
Morning Pointe Assisted Living is the region's choice for assisted living and Alzheimer's memory care, with five locations serving the Tennessee Valley in Chattanooga, Collegedale and Hixson.
To learn more about the Morning Pointe Foundation's Caregiver Café speaker series and upcoming caregiver events, visit www.morningpointefoundation.com.