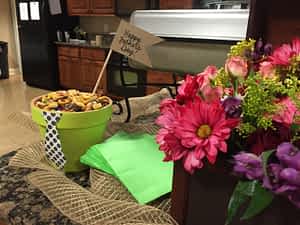 Morning Pointe of Hixson residents celebrated Father's Day with Fourth of July flair. History-themed games, such as a George Washington drawing contest, were enjoyed by everyone.
As part of the Life Enrichment Program, the assisted living community is known for it's creative celebration — sometimes with two special holidays at the same time.
Residents and guests enjoyed door prizes, games and a delicious barbecue lunch in honor of our founding fathers and fathers at Morning Pointe of Hixson.
Photo: Fathers at Morning Pointe of Hixson enjoyed giveaways, games and great food during the assisted living community's Father's Day and Fourth of July celebration.