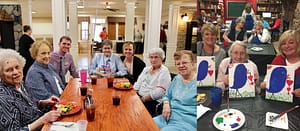 You may be filled with all sorts of emotions when it comes to having a talk with your mom or dad about the possibility of moving to a senior living community.  Here are some tips to help you start the conversation.
Be Ready for Questions. Do Your Homework.  Be sure to make time to do your own research on assisted living options so that you can offer informative facts and details on the process. Invite other important parties to do the same.
Listening is Key.  Hearing and understanding everyone's wishes and concerns is an important part of the process. Take your time to really listen especially to your mom or dad.
Timing is Everything.  Choose a time when you and your family are at their best, feeling healthy and well-rested.
Bring in a Trusted Partner. Consider asking a close personal friend, family doctor, pastor or relative to take part in the conversation.
Patience. Count on a number of conversations and plan on revisiting the discussion. A decision will take time and it's important not to rush the process.
Home
Isolating days pass with little human contact.
Senior Living
A full life enrichment calendar including educational and intergenerational programming, plus regular community service projects and outings.
Home
Reliance on others to go anywhere.
Senior Living
Regular scheduled bus trips for doctors' visits and weekly outings.
Home
Eating alone, prepackaged or processed food, difficult to eat healthy or meet special dietary needs.
Senior Living
Dine with other seniors, enjoy chef-prepared meals with dietitian oversight featuring an ever-changing menu with seasonal fruits and vegetables.
Home
Difficulty with the daily upkeep and maintenance of home.
Senior Living
Regular cleaning and linen services.
Maintenance director part of professional building staff.
Home
Stress related to timely availability of services in case of emergencies.
Senior Living
24-hour Emergency Response System.
Licensed clinical staff available 24 hours a day.
Home
Limited to no access to an exercise facility, regularly scheduled fitness program or equipment.
Senior Living
Daily exercise routine aimed at increasing overall health and wellness. On-site physical, occupational and speech therapy services available through both an outpatient clinic and home health to help increase independence.
Home
Anxiety related to asking more frequently for assistance from others.
Senior Living
Regular support and assistance provided by trained and caring staff around the clock.