Congratulations Summer for being recognized at Argentum's 2019 Senior Living Leaders Under 40. Argentum is the leading national trade association serving companies that own, operate, and support professionally managed senior living communities in the United States. 
SUMMER BLIZZARD has a passion for seniors, technology, innovation, and customer service.  She supports all operations with data analytics and reporting, reviews key processes, and oversees systems and technology implementation. Blizzard's hard work has transformed the use of data at Morning Pointe allowing community teams to have better access to real-time information leading to more informed decisions. Her abilities earned her the title of vice president in less than one year of service at Morning Pointe Senior Living.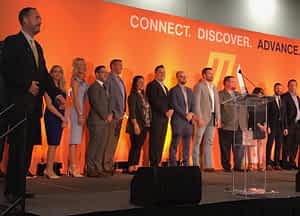 Prior to joining Morning Pointe, Blizzard worked for Elmcroft Senior Living, where she led a company-wide software review task force, developed a company intranet, and began a comprehensive analysis of key performance indicators.
Blizzard served on the Future Leaders Council for the National Investment Center for Seniors Housing from 2016 – 2018, and was the co-chair of the FLC in 2018. She is a member of Chattanooga Women's Leadership Institute and regularly speaks to classes of high school and college students about careers in senior housing. Blizzard is also heading up a new associate wellness program aimed at growing a healthy and engaged workforce.
View the whole article here.