LEXINGTON, KY — Eloise Terry, Morning Pointe of Lexington resident and founder of Young at Hearts Theatre, turned 101 on Saturday, October 8.
But the birthday party for the retired professional dancer and television performer wouldn't be complete without a musical performance in her honor.
To celebrate the centenarian's special day, members of the Young at Heart Theatre visited the senior living community — bringing with them their best numbers and acts to commemorate their organization's founder.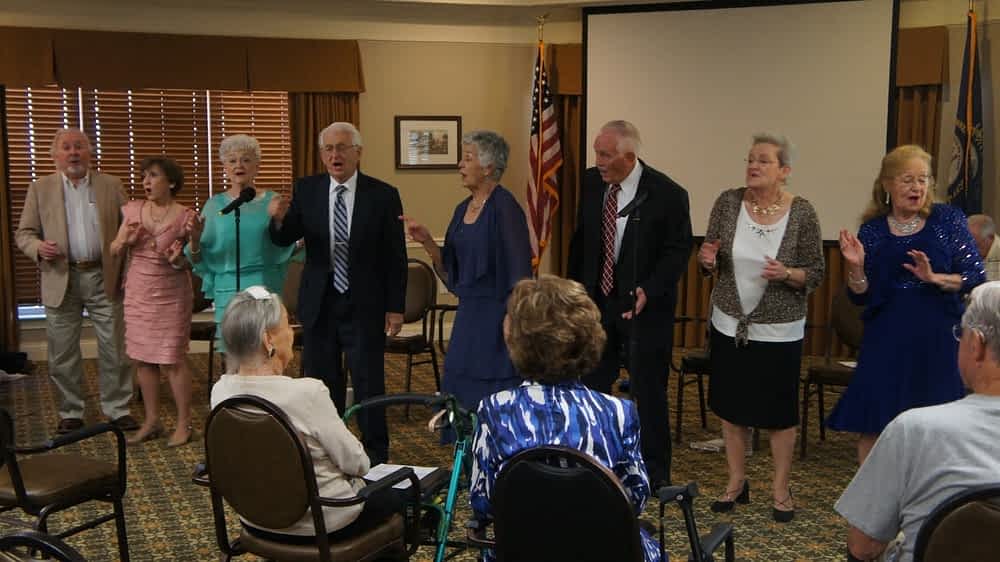 The party opened with a performance of "Music, Music, Music," by a chorus of the theatrical group members.
Ben Fessler serenaded the women in the audience, as he sang, "I Won't Send Roses."
Fessler and his wife, Carol, performed a duet, singing "Fine Romance" for Terry and an audience of friends, family, residents and other guests who came to spectate the special occasion.
As part of the Life Enrichment Program, Morning Pointe invites musical groups to celebrate the residents' special occasions.
Wiping away tears, Terry took the mic and graciously thanked the theatrical group for honoring her history.
Photo: Alan Weller, Joyce Miller, Rosemary Bott, Ben Fessler, Carol Fessler, Jerry Miller, Marion Louden and Willa Fougnie, members of Young Hearts Theatre, open up the birthday party for Morning Pointe of Lexington resident Eloise Terry, singing "Music, Music, Music." The performers visited the senior living community to perform for Terry, the theatrical group's founder.