University of Kentucky Women's Basketball Players are Teaming up with Morning Pointe Senior Living Residents and Associates at all three Lexington Communities to Support Alzheimer's Awareness and the Annual 'We Back Pat' Game coming up later this month at UK.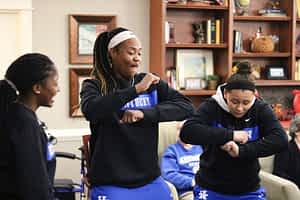 The players are also showing their support off the court. Yesterday, all of the UK Women's Basketball Players volunteered at The Lantern at Morning Pointe Alzheimer's Center of Excellence, Lexington leading a group stretching and restful exercise program. In addition, the players helped serve healthy snacks and enjoyed one-on-one time with the memory care residents.
Kentucky Women's Basketball will be hosting their annual 'We Back Pat' game Thursday, January 24 @ 6:30 pm in Memorial Coliseum at UK. Morning Pointe will be there in full force with nearly 30 residents and associates planning to attend so far.
Every year this game holds a special place in all of our hearts but especially Coach Elzy's with all of the work she has done to help spread awareness with the local and regional Alzheimer's organizations. Click here for event information https://www.facebook.com/events/715758142127565/