March 3 is Maintenance Director Day! Thank you to all of Morning Pointe Senior Living's dedicated and handy Maintenance Directors.
From changing air filters to fixing faucets to preparing apartments for new residents, our Maintenance Directors do a lot!
Let's take a closer look at what it's like to be a Maintenance Director in a senior living building and meet a few of Morning Pointe's go-to guys!
~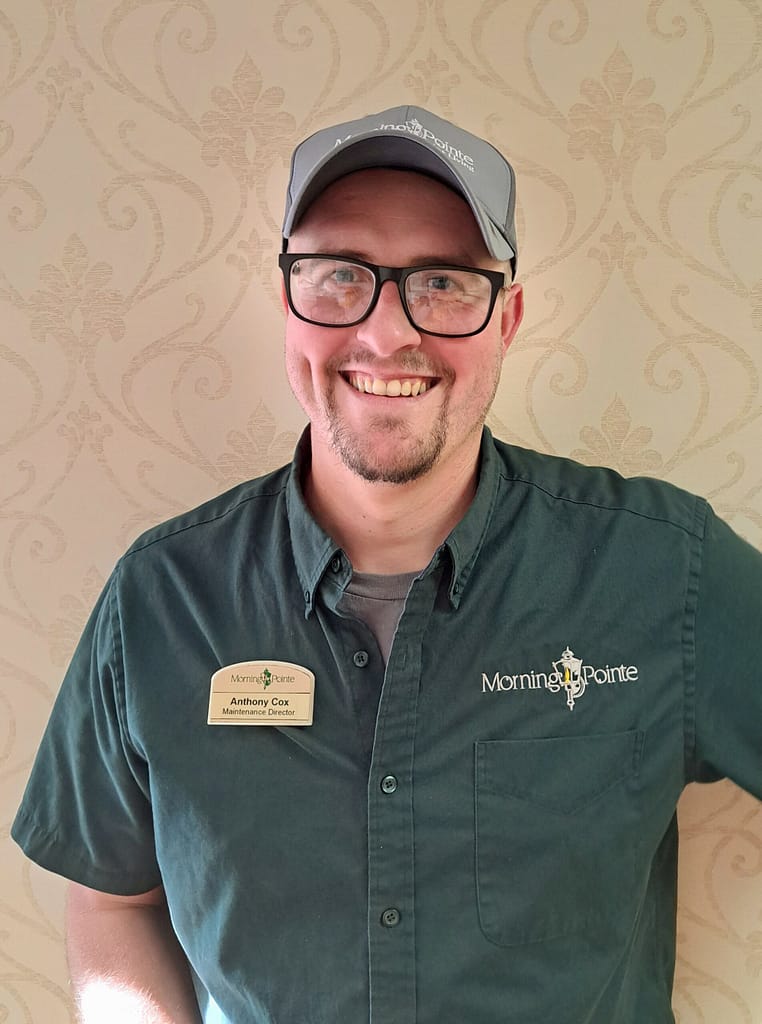 Tony Cox – Morning Pointe of Russell, KY
Tony has worked in maintenance for around 12 years and joined the Morning Pointe of Russell Senior Living team about four months ago. However, he's no stranger to the building; his wife, Jessica Cox, is the Business Office Manager at The Lantern at Morning Pointe of Russell next door and used to work at the senior living building before The Lantern opened.
"This was just kind of the right place at the right time," Tony shared.
Each day, Tony comes in and checks for any new work orders or reports of anything to fix or address. Certain tasks are done weekly as well, such as checking the eye wash stations to ensure they are in date. And sometimes as manager on duty, he gets to serve lunch to the residents one day a week.
Tony prioritizes the maintenance requests and addresses them, big and small.
"It's fast-paced and can be fun," he said. "Some days are a lot longer than others."
Working in a senior living community is different than doing maintenance in many other settings, though, because of the people aspect.
"There's lots of personal interaction," Tony shared. "Not only are you doing some maintenance, but you are also spending time with the residents. And that's very rewarding. It can be the most minor request to you and I, but it means the world to them."
~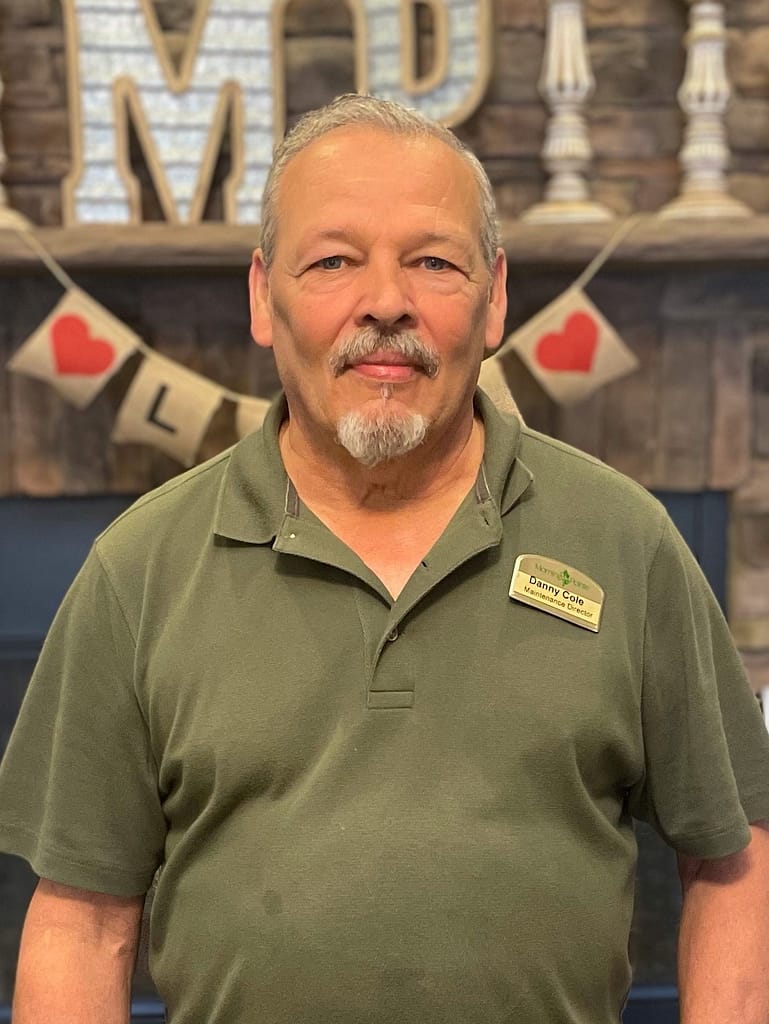 Danny Cole – Morning Pointe of Lenoir City, TN
Danny has been the Maintenance Director at Morning Pointe of Lenoir City for a year and a half and joined the team with more than 30 years of experience in maintenance work, including manufacturing maintenance.
His career at Morning Pointe began with a good interview with the campus leaders – they impressed Danny, and he came on board.
Danny's day at the building begins around 6:30 a.m.
"I get a lot done before the residents wake up and the contractors start arriving," Danny shared. "I go through my email and make a list of what needs to be done, whatever requests got put in, and I take it from there."
One of the tasks Danny does is to inspect and prepare rooms when a resident moves out so that the room is ready for potential new residents to tour.
"I like to transform the room into the Ritz Carlton," Danny said. "Somebody walks into a crisp, clean room, and it just hits them."
As his day starts winding down, Danny takes a look at his email again to make sure everything is ready to go for the next day. He heads home around 3.
No matter what the order of business is, however, Danny always makes time for resident requests as they come up.
"Their little concerns may seem little, but they're huge to me," Danny said. "That's my top priority."
Sometimes, it's changing a lightbulb. Other times, it might be fixing a squeaky walker. And sometimes, residents just want to talk.
"The residents are my favorite people," Danny said. "You get lots of respect from them, and they're always asking about your family."
Danny also thanked his team.
"I love working with these people," he said. "It's not just a job. The team always fills in wherever they can without any complaints, and they hold the residents in high regard."
~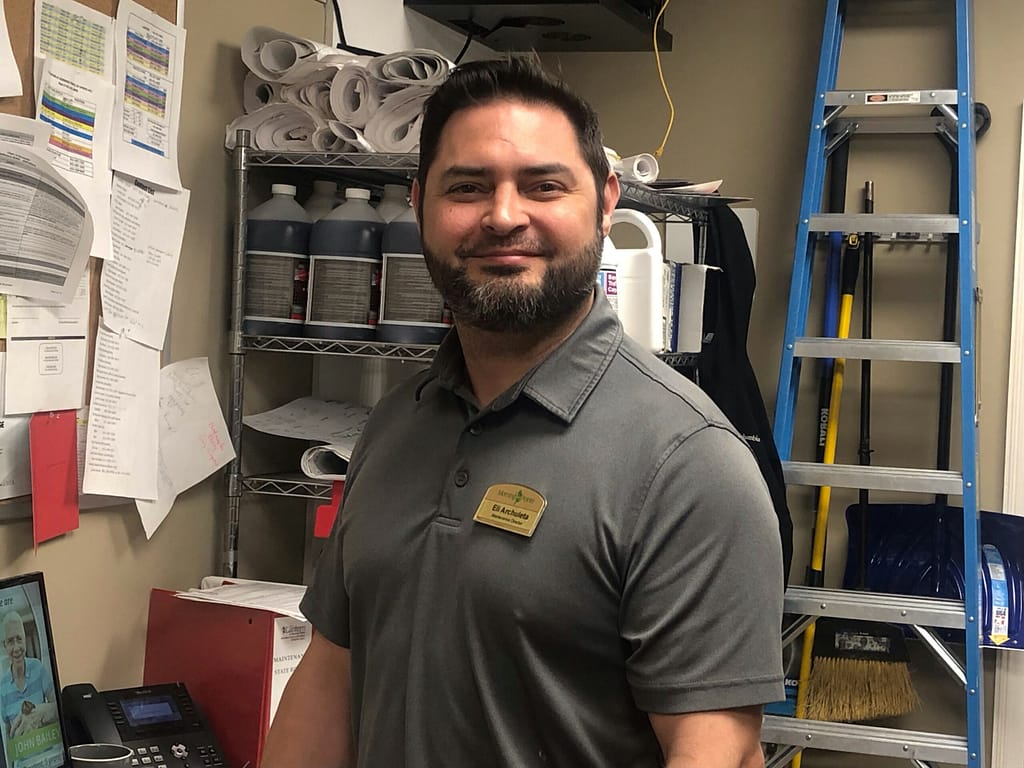 Eli Archuleta – The Lantern at Morning Pointe of Spring Hill, TN
Eli has been Maintenance Director at The Lantern at Morning Pointe of Spring Hill since June 2022. He joined the team at the memory care campus with experience in maintenance jobs in assisted living and bowling centers.
"I like helping people out that need it," Eli shared. "I saw a job posting and thought it was an interesting opportunity."
Eli found that he liked the job, which is about everything from checking the generator and sprinkler system… to servicing the van… to keeping up the grounds… to taking care of heating and air conditioning. He makes sure the nurse call system is working so that residents can reach staff in an emergency, checking the communication devices as well as the pull cords in the residents' rooms.
And at any given time, he can be called off to attend to something else.
"No day is a cookie-cutter day," Eli shared. "I'm multitasking constantly throughout the day."
Working in a memory care community is different than assisted living, Eli pointed out, as the resident interactions are different. Sometimes residents will tell him the same story over and over, but, as he explained, he gets to know them that way.
"When the different contractors come through, I give them a heads-up that you never know exactly what is going to happen," Eli said. "A resident might think you are a relative, or come give you a hug, or try to help you."
He remembers one time a contractor came to measure a carpet and soon had a resident trying to help by holding on to the measuring tape.
"I enjoy coming in and working with the people here and seeing the families," Eli said. "I like knowing that when I leave, everything's safe, and it's a nice place for the residents to live."
~
Thank you to Eli, Danny, Tony, and all of our amazing Maintenance Directors who keep our buildings safe for our residents and associates and spread smiles along the way!