An Educational Seminar Series
Caregiver Café is an educational seminar series that connects senior living experts with seniors, caregivers, and families. Proudly sponsored by the Morning Pointe Foundation and provided at no cost to participants. This series is designed to bring helpful information and answer questions about common issues impacting seniors and caregivers.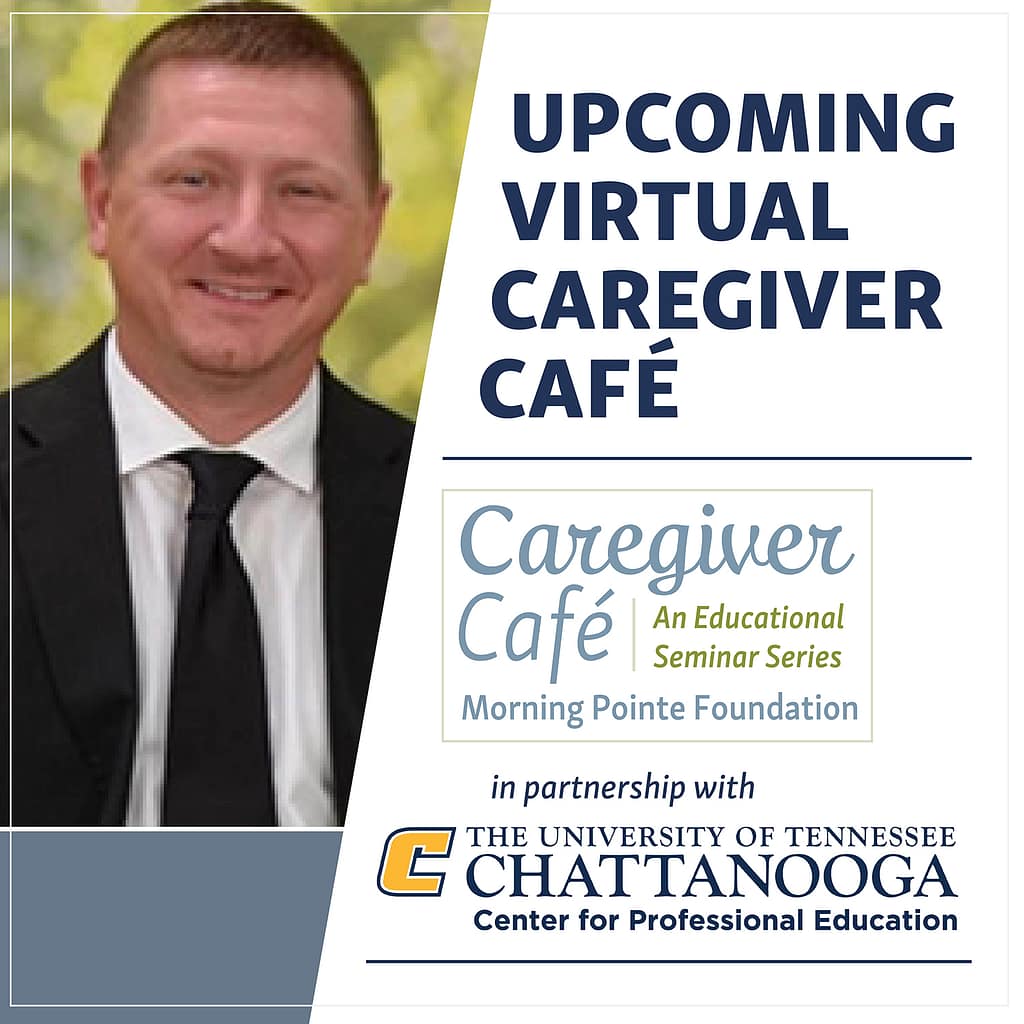 To get CEUs, use the link below to register with a cost of $25. Once you complete the webinar and survey, UTC will email you a PDF certificate for the CEUs for you to submit to your professional accrediting group. 
Alzheimer's, Dementia & Caregiving
November 10 | 6:30 PM EST
Offering 1.5 Contact Hours or 0.15 CEUs for RNS, LPNs, & MSWs through the UTC Center for Professional Education

Featured Guest Speaker:
Dr. David Hutchings
Ph.D. Geriatric Neuropathology & Dementia Specialist
Topic of Discussion:
Dementia types, differential diagnosis and differences among types of dementia
Genetic risks and gene mutations of dementia
Characteristics of each dementia and strategies for treatment
Stages of dementia and declines at each stage for symptom management
Advanced symptom management of dementia and how to address nutritional decline, decline in activities of daily living and fall prevention
Implementation of therapies to assist in all stages of dementia

Decrease caregiver burden and costly treatments

Address difficult topics such as feeding tubes
How to provide evidenced-based practices to dementia evaluation and treatment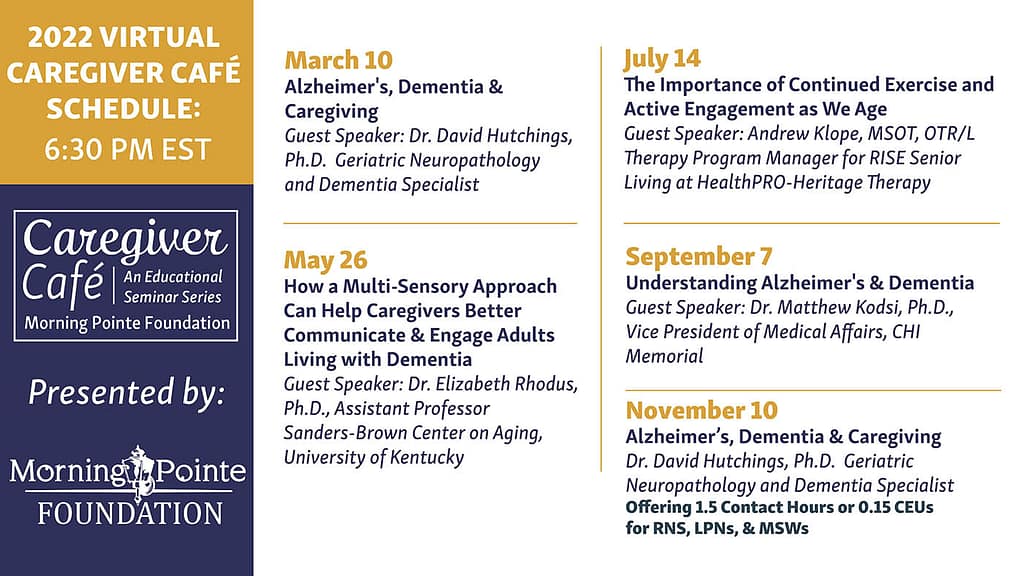 Watch Previous Caregiver Café Webinars
About
The Morning Pointe Foundation, with guest speaker Matthew Kodsi, Ph.D., vice president of medical affairs for CHI Memorial, will offer a free webinar, "Understanding Alzheimer's and Dementia," on Sept. 7. Kodsi is a neurologist with more than 25 years of experience. The presentation is the latest in the Morning Pointe Foundation's Caregiver Café series of registration-only webinars providing education for seniors, their families and other caregivers. The pre-recorded session will include information on signs and symptoms of Alzheimer's disease to watch for, treatments and interventions, as well as the latest research finds on the disease. Kodsi will address topics such as the difference between Alzheimer's and other types of dementia, risk factors for Alzheimer's, the three stages of Alzheimer's and what resources are available to help families dealing with a diagnosis. The Morning Pointe Caregiver Café wellness series connects experts on senior living and care with those experiencing the physical and mental effects of aging for free. The site also shows the full calendar of scheduled speakers. The Morning Pointe Foundation Caregiver Café takes place every other month. Registrants can watch the webinar live or register and watch later at their convenience. The Morning Pointe Foundation is the philanthropic arm of Morning Pointe Senior Living founded by Tennessee-based senior healthcare entrepreneurs Greg A. Vital and J. Franklin Farrow. The 501(c)3 nonprofit public service organization was created in 2014 to provide caregiver support programs, sponsor educational awareness events, and fund clinical scholarships to advance the care of seniors throughout the Southeast.