Frequently Asked Questions
The decision to move to a senior living community is a big one and for some the thought of a move can be stressful and overwhelming. There are steps you can take to ensure your parents' transition is as smooth and seamless as possible. To begin, many people have an inaccurate stereotype of senior living communities – they believe they are like nursing homes, but that is far from reality.
Senior Living Communities like Morning Pointe are places for seniors to maintain their independence while receiving just the right amount of care. The carefree lifestyle enables residents to focus on new experiences, making friends, and enjoying activities or experiences. What you can do to help your parents is to make a plan by starting with an open and honest conversation. Often people find that the dread of having the conversation was far worse in their mind than what it turned out to be in reality.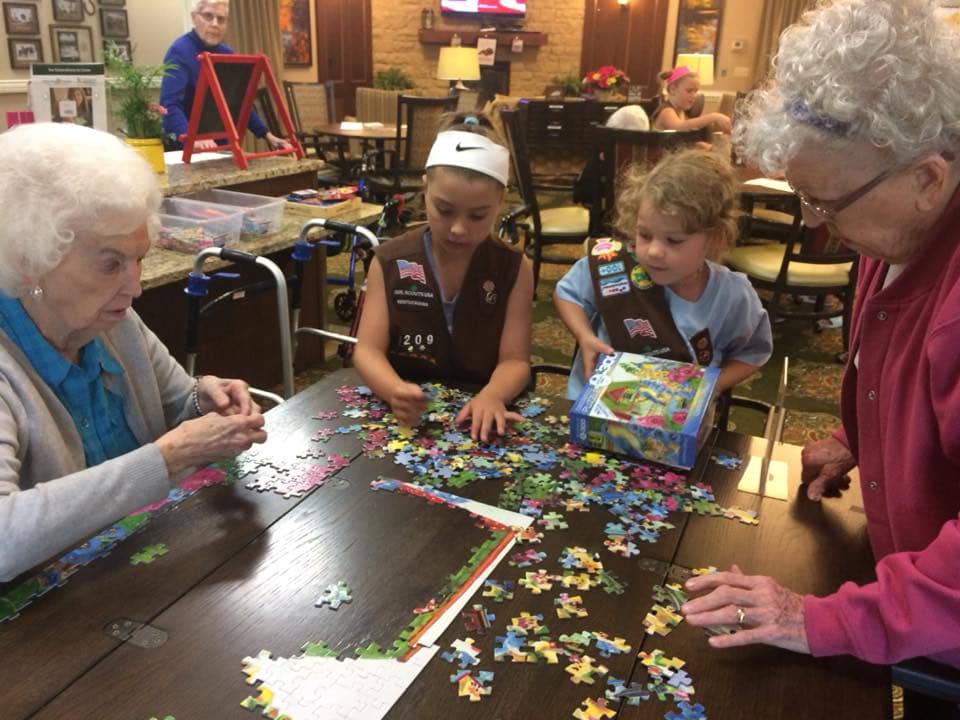 Question: I don't think my Mom is going to change her mind. She keeps saying "I'm not ready." What can I do to help her feel more ready?
Answer: This is a very common response when it comes to considering senior living. Many people feel this way. They may believe that senior living is like a nursing home and it means giving up their independence. The reality is far different. Senior living like Morning Pointe offers levels of care depending on a resident's needs. The key is to make the move when the person is more independent and able to enjoy everything Morning Pointe Senior Living has to offer. Waiting too long to make this decision often means a decision is made in a crisis mode. We have found that seniors who make this choice earlier, get to do just that – make a choice about their senior living community – rather than family making a rushed decision in an emergency situation or worse when senior living is no longer an option because we waited too long.
A typical comment we often hear from our residents after the move has taken place is, "why did I wait so long. I wish I had moved sooner." Many residents find that they have more time for themselves, family and less responsibility and stress associated with maintaining a house and yard, cooking, cleaning, or living alone.
Question: What does Morning Pointe do to help my parents settle into their new home at the assisted living community?
Answer: We take at team approach from our executive director to our maintenance director. Each associate plays a key role in the transition process. The resident services director ensures the care staff is up-to-date on the latest medical and care needs. The life enrichment director details activity preferences while the food services director understands special dietary needs and preferences. The maintenance director helps with the move and other apartment projects. The entire team works to understand who the newest resident is, their history, their likes and dislikes. In many cases, there is a "Morning Pointe Welcoming Committee" made up of residents who greet new residents and invite them to join in activities, outings, meals and more.
Question: What if my parents have different medical needs?
Answer: Morning Pointe Assisted Living offers different levels of care. Couples can live in the same apartment and receive different levels of care. In many of the communities not only is there senior living or personal care services but there is also Alzheimer's and memory care services. The beauty of the program is to provide just the right amount of care for each resident while promoting independence. As needs change so too can the levels of care.
Question: My Father has long term care insurance. Does it work at Morning Pointe Assisted Living?
Answer: Morning Pointe Assisted Living is compatible with most long-term care insurance policies. The executive director of your community can review your policy in detail and assist you with the process.
Question: Is your staff available 24/7?
Answer: Yes our staff is available 24-hours a day, seven days a week. There is an emergency call system in every apartment and every resident has an option of wearing an emergency pendant. Additionally, licensed nurses are available around-the-clock and keep families up-to-date on any health changes.
Have more questions? We would be happy to answer them.