CLINTON, Tenn. (January 24, 2018) – Dot Rutherford, 88, and Jo Rutherford, 92, share more than the same last name. Since 2013, the ladies have lived at The Lantern at Morning Pointe Alzheimer's Center of Excellence, Clinton, where they reflect on more than a half a century of memories together as neighbors.
Jo, born in Oxford, MS, relocated to Anderson County to attend high school near her sister. In 1955, she and husband Carl Rutherford decided to build their home on Riverbend Road in Clinton – a place where few houses stood at the time.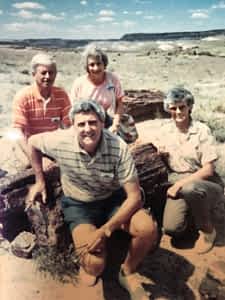 Dot grew up in Lewisburg, KY, and moved to Anderson County after she married Bob Rutherford. In the 1960s, Dot and Bob found a vacant lot – also on Riverbend Road – and decided to move into the growing neighborhood.
Jo and Dot shared a street, but also an uncanny familial bond. Their husbands Bob and Carl were first cousins, making the two wives in-laws. The two families spent the next several decades as neighbors. Dot was a music teacher for Clinton City Schools and later taught kindergarten at Clinton Elementary for 15 years. Jo worked in the editing department at the Atomic Energy Commission, then became an administrative assistant for the local school system.
When the workday ended, the Rutherford households enjoyed their lakefront homes in a kid-friendly environment. Their daughters also shared a close relationship.
"We went through school together and vacationed together," says Donna Roberts, Dot's daughter. "Everyone thought we were sisters because we were the same age."
As Anderson County grew, little changed for the Rutherfords, whose living arrangement embodied the textbook definition of neighborly love for more than 50 years.
"I've had the same neighbors this whole time," says Dot. "I had good neighbors then and good neighbors now."
In May 2013, Jo moved to The Lantern at Morning Pointe Alzheimer's Center of Excellence, Clinton, parting ways with Dot. But their separation was only for a short while, as Dot followed suit six months later. Today, their memory care apartments sit side by side, as the ladies relive their residence on Riverbend Road.
"It's working out really well," says Jo. "We have a system and we need one another. We make sure that we check on each other."
"I wouldn't be happy with anyone else but Jo," says Dot. "We really take care of each other."
The Lantern at Morning Pointe now takes care of them both, as the ladies enjoy their favorite activities while making new memories together as part of the Meaningful Day™ program.