Resident Feature
In August 2022, Morning Pointe of Frankfort, Kentucky, celebrated a very special occasion – the 100th birthday of Virginia "Jenny" Lodmell.
The day gave a chance to honor Jenny not only for her long life but also for her role in history. Jenny is a World War II veteran who served in the U.S. Navy WAVES.
Judge James Kay from Woodford County declared Aug. 17 Virginia Lodmell Day in the county, and Jenny also received certificates from the Kentucky Department of Veterans Affairs and Kentucky Gov. Andy Beshear.
So how did this unassuming lady from West Virginia become part of the war?
The Start of War
Born to Robert and Esthal Hudson in 1922, Jenny had six siblings. She was in high school when the Japanese bombed Pearl Harbor and ushered the United States into World War II.
"Several of the neighbors had to go out [to serve], and a lot of the college boys had to go," Jenny remembered about the beginning of the war.
She spent one year at Beckley College studying to be a secretary before leaving the college.
"They needed everybody to work, so I did," she said of her transition to wartime duties.
Jenny found a job at an ammunition factory in Maryland. Her role was to put the top part on the shells, putting glue on the shell and the cap on top of that. Ten to 12 women sat around a table doing this work and, as she put it, "It was a job."
Then, something tragic happened. The factory suffered an explosion and fire that killed and injured many employees. Jenny was OK and returned home.
Home wasn't like it used to be.
"It seemed like a desert," Jenny said. "All the boys went to war, and many of the women were off to work."
Seeing an opportunity to do something for her country through the Navy's new WAVES program (Women Accepted for Volunteer Emergency Service), she enlisted on Dec. 18, 1943.
"All the boys were going, so why not?" she said.
WAVES Service
Jenny did her basic training in New York and then went to Norman, Oklahoma.
"We would march and march, and sometimes it felt like you did nothing but march," she said of her training.
Instead of working on shells, Jenny became an airplane mechanic.
"I learned all about the different parts of the airplane, how you used it, how you cleaned it, how all the parts fit together," Jenny said.
Jenny did a lot of work on and around the plane engines, especially making sure everything was well lubricated. But her education went beyond her technical skills.
"You sure did learn how to get along with people," Jenny said.
Eventually, Jenny was reassigned to teach radar to the men as they were being assigned to their ships.
Days were taken up with the basics: work, eat, sleep. Jenny rented several apartments during her time in the service, sometimes sharing a room with three other women. On the days she did have off, she enjoyed going to the movies.
She also had the chance to meet Russell Carl Lodmell.
War's End and Family
After World War II, Jenny discharged from the WAVES on Nov. 2, 1945. She and Russell got married.
Russell was from Minnesota and bought a parcel of land in his home state as a new home. The couple moved and farmed the land for about five years.
"We about starved to death and froze to death," Jenny said about that time.
The Lodmells moved back to West Virginia, where they had much more success. Russell became an electrician, and Jenny worked at a Montgomery Ward department store in the catalog department. The couple had three sons, Johnny, Joe, and Jimmy. Jenny now has nine grandchildren and 27 great-grandchildren.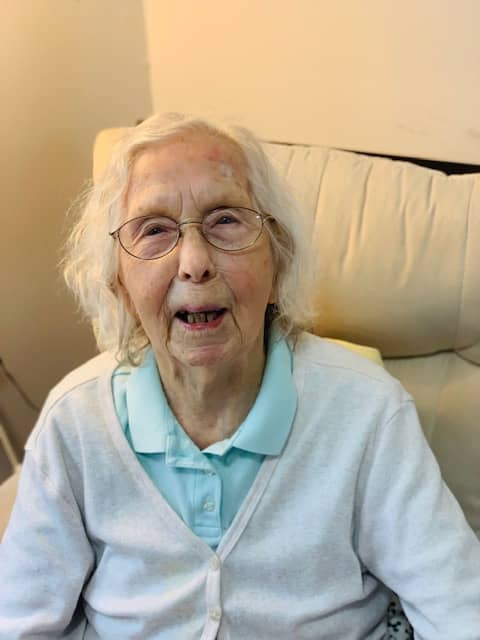 Moving to Morning Pointe
After Russell passed away, Jenny moved to live with her son Jimmy and daughter-in-law Carol in Woodford County, Kentucky. Eventually, they found she needed more care, and Jenny moved to Morning Pointe of Frankfort in August 2013.
"I have a nice apartment," Jenny said of her new home. "It's a very nice place for older people. There's no steps, and you can walk outside. There's a great big porch with rocking chairs, and everybody here seems to work together."
Carol chose Morning Pointe of Frankfort after doing some online research and considering that the campus was not far from their family home.
"They have a good reputation, and they have been wonderful to Jenny and all of the residents," Carol shared. "I've always had a good working relationship with them. They are all very professional."
When we asked Jenny what she is proud of in her life, she said, "I am glad I served the Navy." At 100 and enjoying life, Jenny gave this advice for longevity: "Take care of yourself. Eat sensibly, and don't take any crazy chances. If your body stays strong, usually your mind will too."
Thank you, Jenny, for your service to your country! We are proud to have you as part of our Morning Pointe family!