Morning Pointe Senior Living communities are home to almost 2,000 seniors. One of the perks of living in a Morning Pointe apartment, in addition to 24/7 access to clinical care, a calendar of activities and three nutritious meals a day, is the fact we have Housekeepers to help keep the campuses clean.
Our housekeepers fulfill a vital role in community life – in the residents' apartments, common areas and offices. Especially in our post-pandemic world, we have a renewed appreciation for those who keep things clean and sanitary.
Meet some of our exceptional Housekeepers throughout our company, who represent dozens others like them across Morning Pointe's 37 assisted living and memory care campuses.
~~~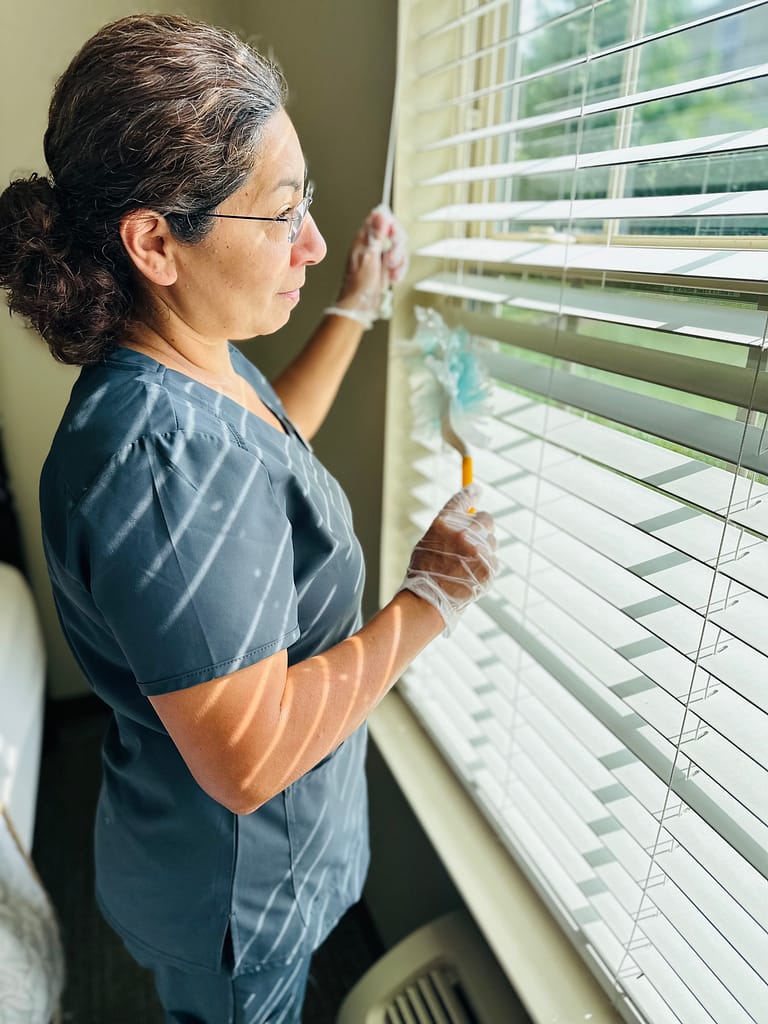 Lorena has been a Morning Pointe associate since May 2017, and before that, she worked for 18 years in laundry and housekeeping at a skilled nursing facility.
"I like to help the residents," she says. "I like to clean the rooms because the residents can't do it themselves. Once I clean their apartments, they are so happy."
When Lorena was asked what she likes about working for Morning Pointe, she shared, "All the employees are nice."
Nikki Thelen, Senior Executive Director at Morning Pointe of Louisville, said, "Lorena's residents look forward to their cleaning day, not just because their apartment is being cleaned but because Lorena will be visiting. She socializes with her residents and makes them feel like they are her number-one priority while she is with them. She helps one resident who needs special attention in the morning with getting dressed. She walks one of our resident's dogs daily so the resident does not have to worry about it four days a week. We receive daily compliments, from residents AND family, about Lorena and how grateful they are for her attention to detail, her caring and compassion, and her friendship."
~~~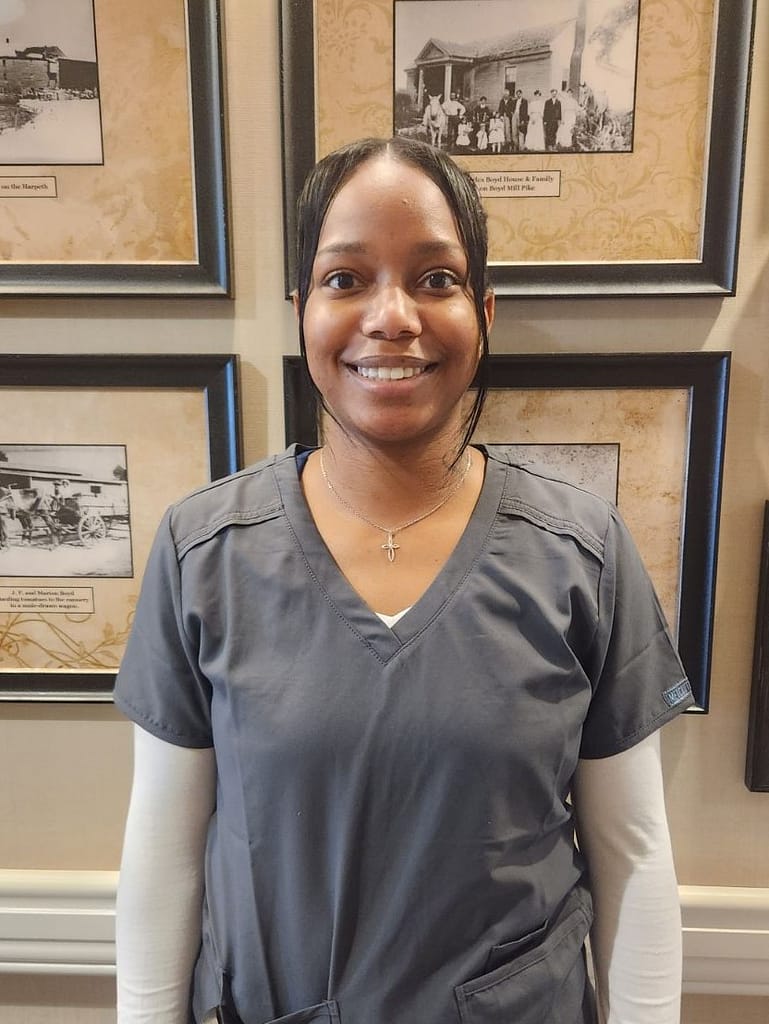 Scarlet is a relatively new Housekeeper at The Lantern, having started in April 2023. She has worked in Housekeeping for about three years.
"When she interviewed, she shared that she loves to clean, really loves to clean, and she means it," said Lori Domer, Executive Director at The Lantern at Morning Pointe of Franklin. "She takes great pride in making sure The Lantern is clean and smells great, and she has the greatest attitude and smile!"
Scarlet shared, "I enjoy the peace of mind. Cleaning is very calming to me, and I like to help out if I can."
~~~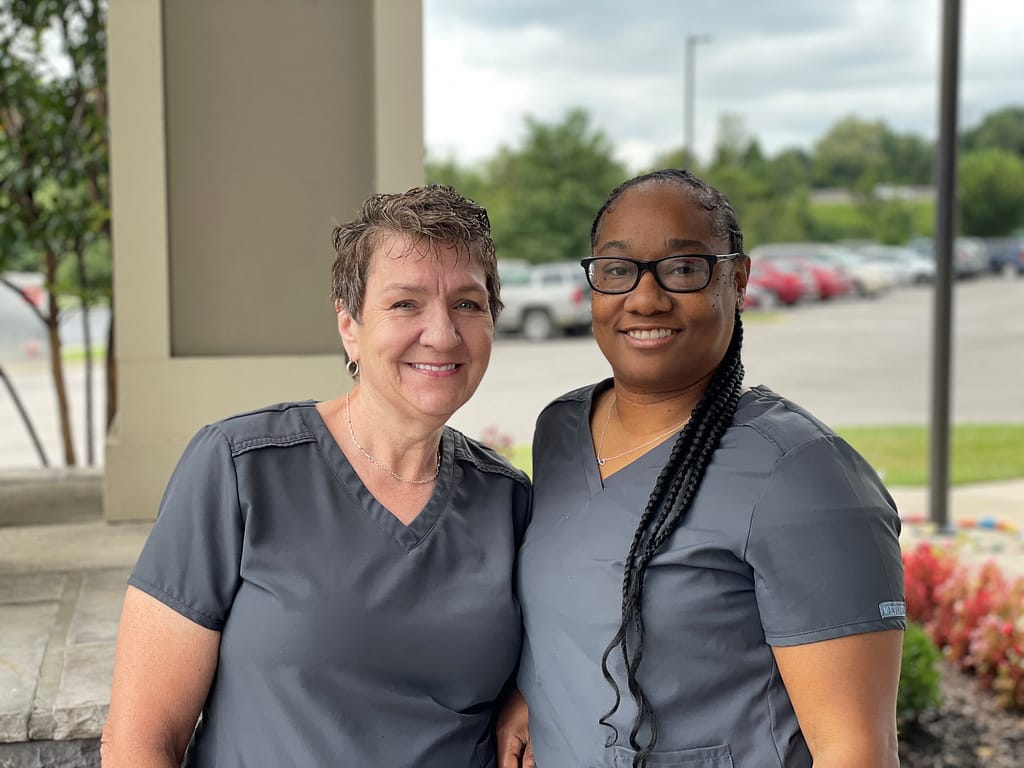 "Christina and JarNeisha are truly a dynamic duo," said Anita Estes, Executive Director at Knoxville Lantern. "They not only do an excellent job with resident apartments but are a second set of hands for our Maintenance man. They keep up with repairs needed in an apartment and are instrumental in preparing rooms for new residents."
JarNeisha started at Morning Pointe of Knoxville Assisted Living about four years ago as a night shift Resident Assistant, then transferred over to The Lantern when the memory care community opened. She has been a Housekeeper for about a year.
"I enjoy keeping our residents' home clean and getting to know the residents a little better," JarNeisha shared. "I love it. The residents count on us. They're comfortable around us. And they're funny, too. I love my job and plan to be here for years to come."
Christina also started out as a third-shift RA and naturally fell into the Housekeeper role when the community needed one. She officially started as a Housekeeper a little before JarNeisha did.
"Even though I'm not a direct caregiver anymore, I still have kind of a caregiving role," Christina explained. "I can still do things to help the residents and their families. When I go in, the residents will come up to me and give me a hug. They always say, 'I love you.' I love the residents, and I like all the management staff. It's just a good place to work."
~~~
Thank you to each Housekeeper across Morning Pointe's footprint for not only cleaning but also helping make our residents smile and feel good about their Morning Pointe home.