Judy Shropshire was born in Knoxville, Tennessee, and now lives not far away at Morning Pointe of Lenoir City, Tennessee. However, her life has included a lot of travel – including a three-year adventure sailing the Caribbean.
~
An Active Youth
Born in 1944 to an engineer father and professional golfer mother, Judy had a brother and sister and grew up doing a lot of boating and swimming. Her dad worked for the Tennessee Valley Authority (TVA) and, in his spare time, liked to build and fix things, including houses.
After high school, Judy attended the University of Tennessee, studying journalism and business administration. She got her first job at a title company and later became an employee in the legal department at TVA.
Judy also got into fixing up houses and renting them out for a while.
Her first husband, Hugh, got her into motorcycle riding. He built her a motorcycle of her own, which she rode to and from work, and the couple took trips to Alabama to watch motorcycle races.
Judy worked for TVA for 19 years before taking an early retirement. At the time, she was divorced and had joined a ski club. She took a trip to Gray Rocks in Quebec, Canada.
"I met Lou on that trip, and we were together from then on," Judy said. Lou and Judy got married.
~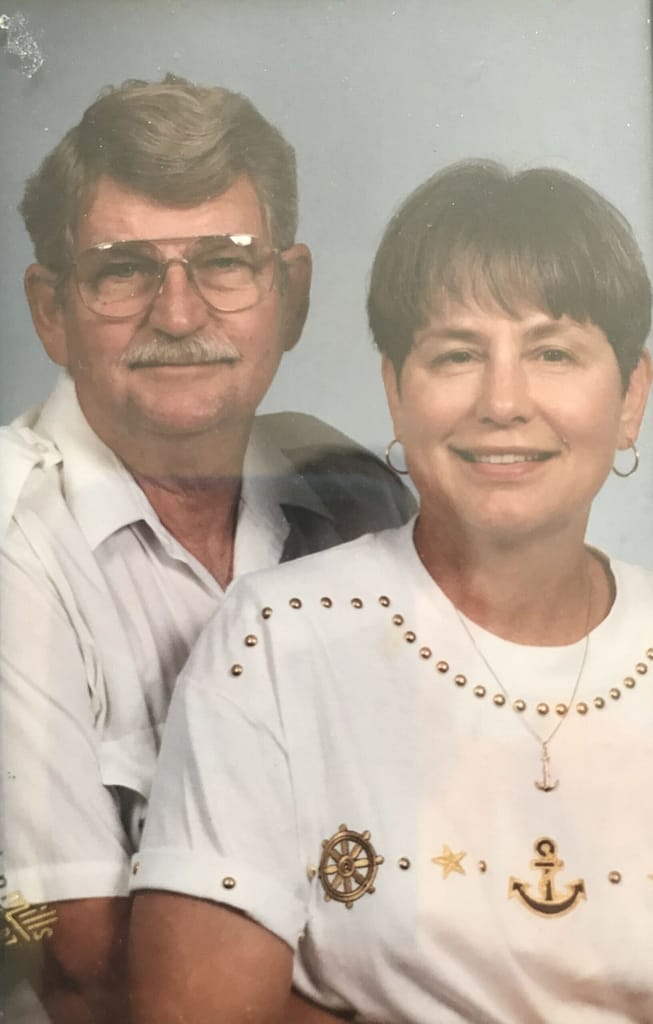 Starting the Great Sailing Trip
Lou loved boats, and he bought a Morgan sailboat and named it Bonnie Jean, after his daughter from his previous marriage. He took several months getting the vessel ready for the trip of a lifetime – island hopping through the Caribbean.
"My husband fixed things to his satisfaction," said Judy. "He had to know everything about the boat's operation. It was very sturdy, and it had a lot of cubby holes where you could store stuff and try to remember where you put it."
The Shropshires did a test run, taking the Bonnie Jean up the Intercoastal Waterway to Baltimore. The trial was a success, so it was off to the south!
"We sailed to Miami, and then we jumped off to the Bahamas," Judy said.
Their first stop was Bimini, the westernmost Bahaman island. Over the next three years, the couple visited Nassau, Turks and Caicos, the Dominican Republic, Puerto Rico, the Virgin Islands, St. John, St. Kitts, Guadeloupe, Dominica, Martinique, St. Lucia, Grenada, Trinidad and the coast of Venezuela.
Most of their travel from island to island took place at night, when the waves were calmer.
"It was so beautiful down there," Judy said of the Caribbean in general. "We stayed in St. Lucia for quite a while, and I liked Puerto Rico too."
Judy especially loved the food.
"We had fresh seafood wherever we went," she said. "Sometimes Lue would fish. We had a freezer full of fish most of the time."
Judy also enjoyed snorkeling and getting to know other boaters, who the Shropshires often sailed alongside so there was support in case of an emergency.
But one new friend actually joined the "crew" of the Bonnie Jean.
When the couple was at Guadeloupe, someone was giving away kittens, and they adopted one they named Pierre. "He took to the boat very well," said Judy. "We put a little ball on the floor in the cabin, and he chased it. Sometimes he got up on the railing and walked. He fell in a couple of times, but we got him back on board."
~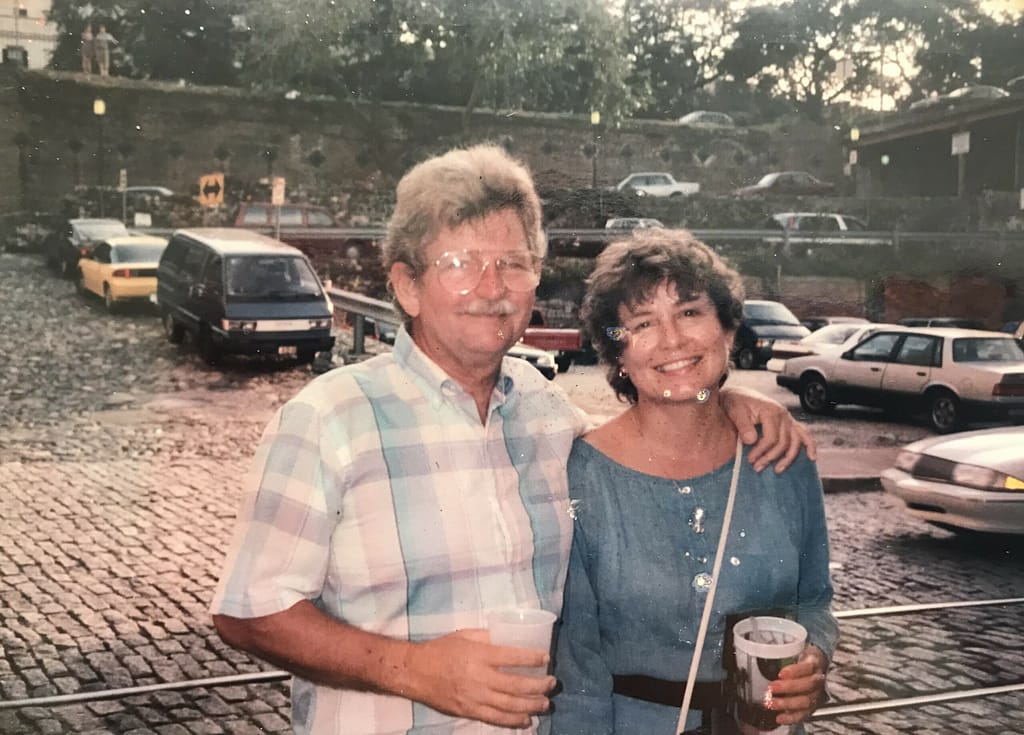 The Journey Home
The Shropshires had intended to make a giant loop on their voyage, but when the water became rougher on their turn west, they decided to backtrack the way they came. They turned around at Caracas, Venezuela.
When they returned to the United States, they landed at Fort Lauderdale, Florida. They switched from a sailboat to a troller (which they also named Bonnie Jean) so they wouldn't have to worry about sails under the waterway bridges, and they sailed their way up to Tennessee.
Judy and Lue wintered on their boat at the Fort Loudoun Lake Marina, but what a winter! That year, the overhang at the marina collapsed with the weight of snow.
"That's when we became landlubbers again," Judy said.
Pierre, of course, went with them. And the boat trip became the highlight of Judy's life.
~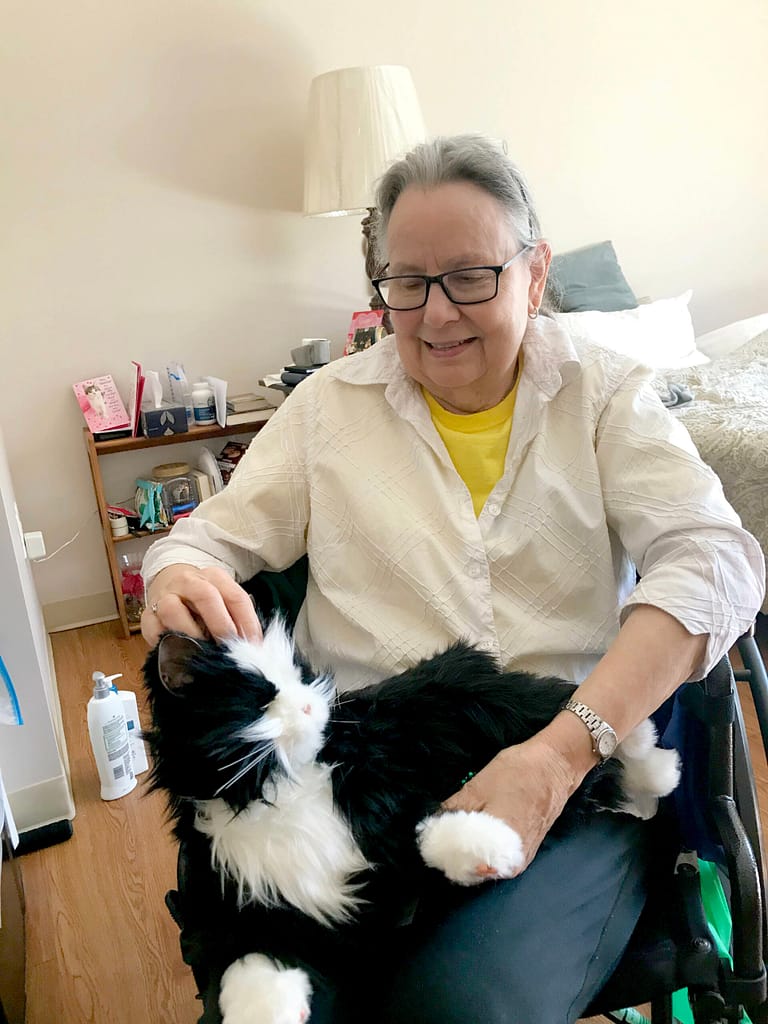 Coming to Morning Pointe
After Lue passed away in December 2020, Judy lived with her sister, Pat, for a while. Then, in late 2022, Judy had a stroke.
Pat's mother-in-law had been a resident at Morning Pointe of Lenoir City, so she was familiar with the assisted living building and recommended it to Judy.
"I came and checked it out and liked it," Judy said. She moved in.
Pat visits frequently, and Bonnie Jean and her two daughters visit when they can.
"I enjoy being able to have my meals prepared for me," Judy shared. "I enjoy the people I have met here, the friends I have gotten to know at meals."
In fact, her friends from the Lunch Bunch got her a stuffed animal cat that can purr, open and close its eyes, meow, and even pretend to lick its paw. She treasures it, remembering the cats she has had over the years, including precious Pierre from Guadeloupe.
Judy, thank you for sharing your adventures with us! We are thankful to have you as part of our Morning Pointe family!