From Johnny Nash's "I Can See Clearly Now" to a guitar duo performance of "How Great Thou Art," the Morning Pointe Foundation's Seniors Got Talent show on Sept. 12 offers a wide variety of performances.
The show, produced in conjunction with Morning Pointe Senior Living, starts at 7 p.m. at the Lexington Opera House at 401 W Short St.
Tickets are on sale for $10. Guests can buy them in advance at https://morningpointefoundation.com/events/seniors-got-talent/ or on Ticketmaster.com. In-person purchases at the theatre, either in advance or day of, avoid Ticketmaster fees.
What to Expect from the Show…
The show will open with last year's winner, pianist Lutisha Coleman, performing, "All Hail the Power of Jesus' Name."
Performers are ages 62-82, and the performances will include:
Pete and John, musical duo, performing "How Great Thou Art"
The Capital Steppers, line dancing group dancing to a medley of "Rock Around the Clock," "Tie a Yellow Ribbon Round the Ole Oak Tree" and "Boogie Woogie Bugle Boy"
Brent Bernard, pianist, playing a medley of "He Will Set Your Fields on Fire" and "Keep On the Firing Line"
Collins and Cox, musical duo, performing a medley of "Hey, Good Looking," "Gentle on My Mind" and "Glory Train"
Jo Ellen Horn, comedian/Minnie Pearl tribute artist performing "The Ghost Chickens Song"
Ralph Curtis, singer and guitarist, performing "Dixieland Delight"
Harley Cannon, singer and pianist, performing "I Can See Clearly Now"
Jim Whitaker, singer, singing "Amazing Grace"
Glitterbugs, dancing group, dancing to "All That Jazz"
Ron Cheak, singer, performing "The Best is Yet to Come"
Sonny Fishback, singer and pianist, performing "A Change is Gonna Come"
Prizes will be awarded to the first, second, and third-place winners. The overall winner will receive $500. In addition, show attendees will be able to vote for their favorite act at $1 per vote for the People's Choice Award.
The Cause…
The Foundation is the philanthropic arm of Morning Pointe Senior Living. The 501(c)3 nonprofit public service organization was created in 2014 to provide caregiver support programs, sponsor educational awareness events, and fund clinical scholarships to advance the care of seniors throughout the Southeast. Funds from the Seniors Got Talent shows go toward scholarships.
Founded in 1997 by senior healthcare entrepreneurs Greg A. Vital and J. Franklin Farrow, Morning Pointe Senior Living owns and operates 37 assisted living, personal care, and Alzheimer's memory care communities in five southeastern states. These include 11 campuses in Kentucky. Phase II of Morning Pointe of Danville, an assisted living community, will be the 12th building in Kentucky, estimated to open in late 2024.
Tour T-shirts will also be available at the show for $20 as a Foundation fundraiser.
"We have incredible talent lined up this year, and I think it's going to be tough for our judges to determine a winner," said Miranda Perez, Morning Pointe Foundation Executive Director. "If you have never been to Seniors Got Talent, it's a night of entertainment and inspiration you don't want to miss."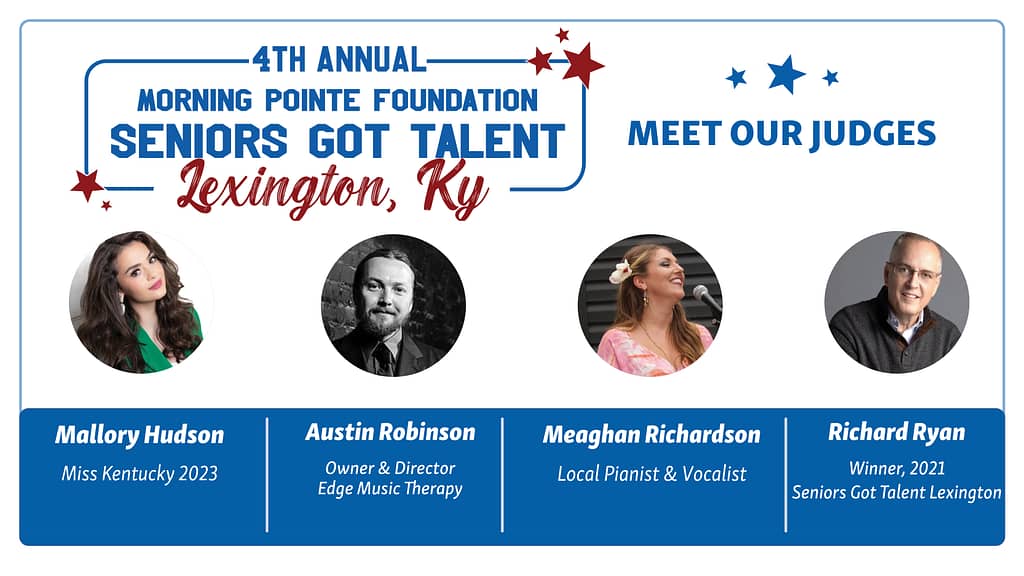 More Details…
Dillon Gaudet, morning meteorologist at WTVQ ABC36, will serve as the master of ceremonies for the second year. Judges will include Meaghan Richardson, singer, pianist, songwriter and vocal coach; Richard Ryan, winner of the 2021 Seniors Got Talent show; Austin Robinson, owner and director for Edge Music Therapy, LLC; and Mallory Hudson, the reigning Miss Kentucky.
Sponsors for this year's show include Village Caregiving; AGC Automotive Americas; APHIX Lawn Service; The Weston Group; Capital Pharmacy; Citizens Guaranty Bank; Morning Pointe of Danville; Guardian Pharmacy; CenterWell Home Health; Aetna Medicare Solutions; CHI/VNA Home Health; Silver Lexington; Eventus Whole Health; Tailor Made Compounding; LifeLoop; Yardi; and Consolidated Medical.
Morning Pointe's Seniors Got Talent is building on a 14-year tradition that began at Morning Pointe of Hixson, Tennessee. Morning Pointe also sponsors Seniors Got Talent competitions in Chattanooga, Knoxville and Franklin, Tennessee.