On July 17, 2022, Eugene Pflughaupt joined four fellow veterans on a flight aboard a B-25 bomber.
Eugene, a resident at Morning Pointe of Danville, Kentucky, had served his country in World War II and the Korean War, but this was his first time riding in a bomber.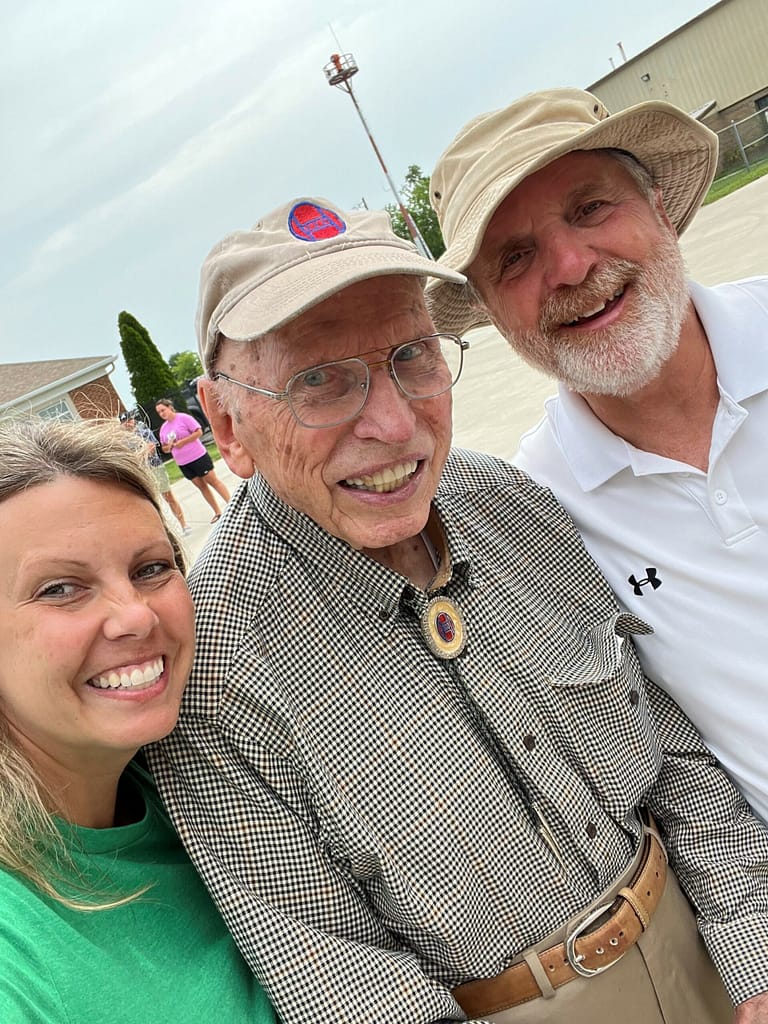 "The only flights I'd ever been on before were commercial flights," Eugene said of the hour-long ride on the "Show Me" from St. Louis. "It was interesting to see how cramped everybody was on the bombers. The windows were small, and half of the view was taken up by a machine gun."
Honor Flight Bluegrass arranged the flight at the Danville-Boyle County Airport and assisted the veterans in and out of the aircraft.
War Service
Eugene was raised in Des Plaines, Illinois. He was drafted into World War II just after finishing high school. He completed basic training in Arkansas and returned home for Christmas before shipping out for Europe on Jan. 1, 1945, on the SS Brazil.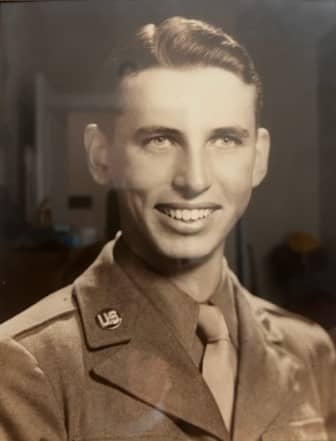 "It was kind of a sad Christmas because we knew my destination," Eugene remembered.
The ship docked in Le Havre, France, and Eugene joined the 30th Infantry Division. His role was as a foxhole digger as the army pushed back the Axis powers from the west. He was there when the division crossed the Rhine River.
"Five times in my life I was in danger from enemy fire," Eugene shared. "Crossing the Rhine, I came the closest to losing my life. I was waiting for artillery fire to end, and the last shell fell just behind the foxhole I was in."
Finally, the division made it to Magdeburg, Germany, and there the group liberated one of the German labor camps, where prisoners of war, Jews and others were forced to work and kept in abominable conditions. Here, Eugene concluded his time in the Army, staying in Germany with the occupying forces for about a month after the capture of the city.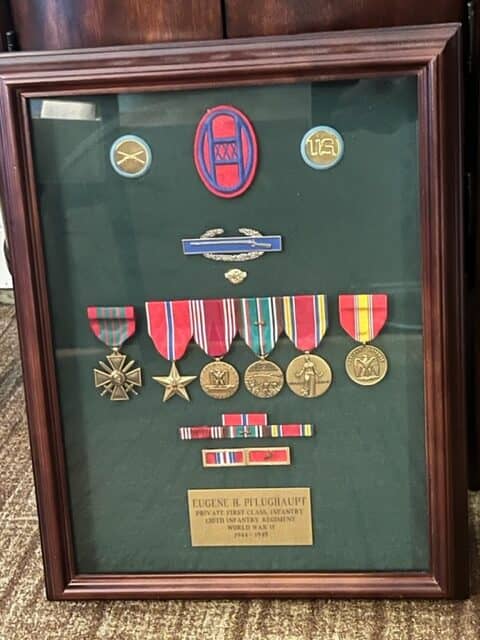 Eugene came home to the States on the Queen Mary, being told that he would be trained to go to Japan. However, that itinerary never came to pass.
"The Army decided I'd be more useful as a typist than as a rifleman," Eugene explained.
He went on to earn a Bachelor of Science in Education from Northwestern University, where he met his wife, Margery, in the registration line. The two married in 1950, and Eugene got a job in Arkansas. When the Korean War started, the Army called Eugene back, sending him to Texas to work as a typist typing officers' reports. He discharged from the Army as a sergeant.
Civilian Life and Family
Eugene transitioned back into civilian life after the Korean War and spent most of his career as a salesman, selling law books. He and Margery had three daughters, and each went on to have two children of her own.
"Providing for my family as the best thing I have done in my life," Eugene shared.
Eugene moved in to Morning Pointe in November 2021. He likes the convenience of senior living and counts himself blessed that at 96, he can still drive.
"I'm well fed and taken good care of," Eugene said.
Eugene, we are proud to serve our veterans. Thank you for your service!
Morning Pointe of Danville is located at 1375 Perryville Road. For more information about the facility, please call 859-965-1008.
Morning Pointe is the region's choice for senior living and memory care, serving seniors across the Southeast for 25 years. In addition to the Danville personal care and Alzheimer's memory care campus, Morning Pointe operates senior living and memory care communities in Frankfort, Lexington, Louisville, Richmond and Russell.
Founded in 1997 by Tennessee healthcare entrepreneurs Greg A. Vital and Franklin Farrow, Morning Pointe Senior Living owns and operates 37 senior living, personal care and Alzheimer's memory care communities in five southeastern states and is celebrating its silver anniversary throughout 2022.