Several Morning Pointe of Frankfort, Kentucky, residents are eagerly reading their latest literary foray, "Miss Julia Stands Her Ground" by Fannie Flagg as part of the senior living community's book club.
The Reading Pointe book club, as the group is known, meets on the last Tuesday of each month to discuss highlights from their book of the month.
Vanessa Damron, life enrichment director at Morning Pointe of Frankfort, shared that the reading club started about three years ago and is going strong with 10 members. The group has read 20 books so far.
"We read one book per month, and everyone reads at their own pace," said Damron.
At the beginning of the year, Damron selected about 20 potential titles from the Kentucky Department for Libraries and Archives, which furnishes book club kits for more than a hundred works of literature. Damron pics those she thinks the members might enjoy and turns in the list to Paula Faught, adult outreach specialist at the Paul Sawyier Public Library in Frankfort. Faught orders the books as they are available for the group.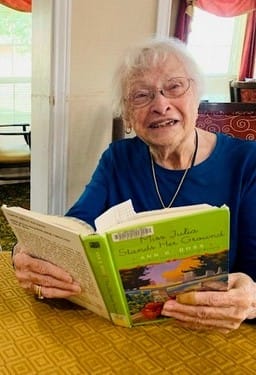 Damron shared that the most popular book so far was the suspense novel "Still Life" by Joy Fielding.
"That was one that everybody was blown away by," Damron said.
Damron also leads out in the discussion each month and invites new residents at Morning Pointe to join them.
"It makes them feel like they're a part of something," Damron said.
"I love the book club because I've had a lifelong affair with books," said resident Betty Smith. "As a school librarian, I was always surrounded by books. I love being introduced to new books, and I enjoy the discussions that follow."
The book club is currently hoping to line up refreshments for their next meeting. If you would like to sponsor tea, coffee, doughnuts or other snacks for the group, please contact Damron at 502-226-5888.
Morning Pointe of Frankfort is located at 68 C. Michael Davenport Blvd.
Morning Pointe is the region's choice for senior living and memory care, serving seniors across the Southeast for 25 years. In addition to the Frankfort memory care and personal care campus, in Kentucky, Morning Pointe operates senior living and memory care communities in Danville, Lexington, Louisville, Richmond and Russell.
Founded in 1997 by Tennessee healthcare entrepreneurs Greg A. Vital and Franklin Farrow, Morning Pointe Senior Living owns and operates 37 senior living, personal care and Alzheimer's memory care communities in five southeastern states and is celebrating its silver anniversary throughout 2022.