Talented seniors from the greater Lexington area took the stage at the Lexington Opera House on Aug. 11 for the Morning Pointe Foundation's annual "Seniors Got Talent" showcase.
First place and the $500 cash prize went to pianist Lutisha Coleman, 89, for her dynamic performance of "How Great Thou Art."
"I won – yay!" said Coleman. "I certainly didn't think I was going to win – there was so much talent out there. I saw the event on Facebook, and I just took a chance and auditioned. Music is my life. It's been a wonderful experience because I love performing. It's a good therapy as well."
Coleman, a retired music teacher, has been playing piano since age 5. She received her undergrade degree from Kentucky State University and her Master's from Eastern Kentucky University. She has accompanied many performers throughout the years, including the annual Dr. Martin Luther King Choir. She has received many community awards for her contribution to music in the Lexington area and even has a scholarship in her name for music majors at Kentucky State.
Second place went to the Flat Out Fun Dance Team, ages 67-85, who danced to "Girls with Guitars."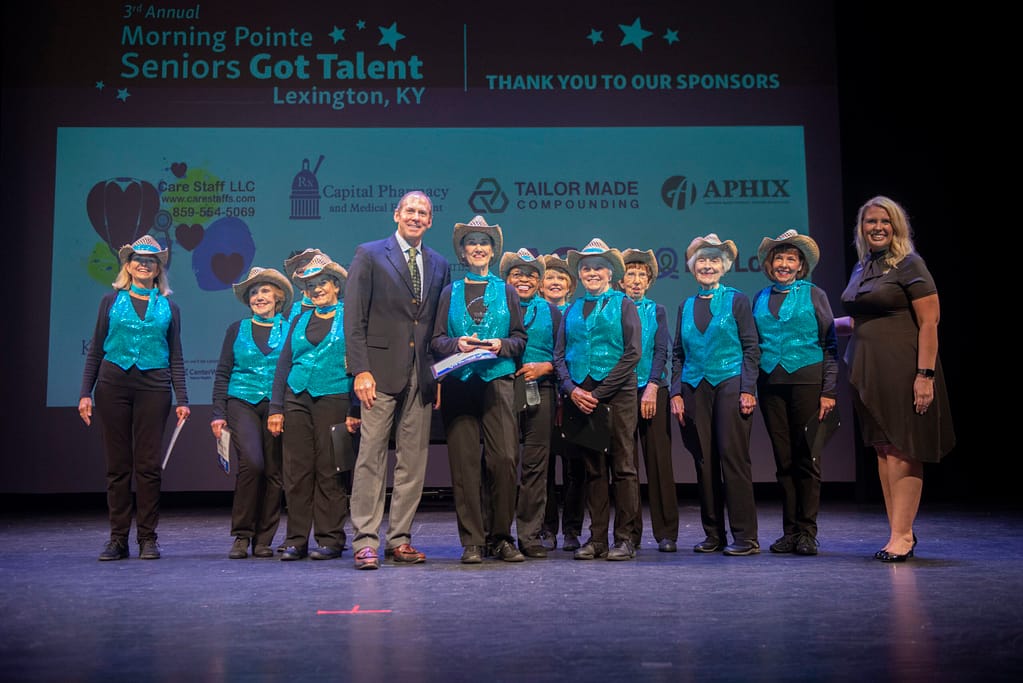 The dance team formed in 2007 as an off-shoot of a "Let's Dance" class at a local YMCA. The members started off performing in nursing homes and assisted living facilities and have since expanded to perform at events such as the American Heart Association's local Go Red luncheon, at the ALS Walk, the Junior Leagues' Holly Day Market and UK Women's Basketball games.
Flautist Lydia DiMartino-Ellis, 62, took third place with her performance of "Climb Every Mountain" on a one-handed flute.
DiMartino-Ellis started playing the flute in the fourth grade in her school band and has performed for many years. Six years ago, a stroke left her partially paralyzed and changed her music abilities. She switched to a one-handed Native American-style flute and has dedicated her musical gift as a service to help others. She is a certified therapeutic musician.
Dillon Gaudet, morning meteorologist with ABC36, served as the emcee for the evening.
Eight individual senior performers and two groups performed at this year's Morning Pointe Foundation Seniors Got Talent, Lexington variety show.
The senior talent show was produced by the Morning Pointe Foundation in conjunction with Morning Pointe Senior Living. It raised more than $17 for the Foundation toward its mission of providing nursing scholarships at schools like Eastern Kentucky University and Bluegrass Community and Technical College, and funding caregiver support programs.
"The inspiration is, no matter how old you are, you can always fulfill your childhood dream," said Morning Pointe Foundation Executive Director Miranda Perez. "It's a great opportunity to have an evening where we bring all ages together. Thank you again to all of our sponsors, including Gold Sponsor Care Staff, Citizens Guaranty Bank, APHIX Landscaping, Capital Pharmacy, Tailor Made Compounding, Kindred at Home, Silver Lexington, Eventus Whole Health, AGC Automotive Americas, Whitaker Bank of Berea, LifeLoop, Extended Care House Calls and Bluegrass Elderlaw."
Judges included Richard Ryan, last year's first-place winner who has performed with The Kentucky Opera; Whit Whitaker, performing artist and executive director of the historic Lyric Theatre & Cultural Arts Center; Austin Robinson, owner and director of Edge Music Therapy LLC; and Lyndy Franklin Smith, who co-founded The Lexington Theatre Company (The Lex) alongside her husband, Jeromy.
"Each year as the Morning Pointe 'Seniors Got Talent' competitions grow across the Southeast, the Morning Pointe Foundation remains committed to celebrating the talents of local seniors while supporting caregivers and nursing scholarships," added Morning Pointe CEO and Co-founder Franklin Farrow. "This is such an important cause, and we look forward to continuing to grow 'Seniors Got Talent' in the years to come."
The Morning Pointe Foundation is the philanthropic arm of Morning Pointe Senior Living founded by Tennessee-based senior healthcare entrepreneurs Greg A. Vital and J. Franklin Farrow. The 501(c)3 nonprofit public service organization was created in 2014 to provide caregiver support programs, sponsor educational awareness events and fund clinical scholarships to advance the care of seniors throughout the Southeast.
Founded in 1997 by Tennessee healthcare entrepreneurs Greg A. Vital and Franklin Farrow, Morning Pointe Senior Living owns and operates 37 senior living, personal care and Alzheimer's memory care communities in five southeastern states and is celebrating its silver anniversary throughout 2022.