With Morning Pointe Foundation's Seniors Got Talent, Knoxville variety show coming up on Monday, Nov. 14, the names of the participants have been released.
The event will take place at 7 p.m. at the Bijou Theatre. It is produced by the Morning Pointe Foundation in conjunction with Morning Pointe Senior Living.
Performers are:
Bobbie Marler, a singer
Back Pew Poets, a singing, guitar and harmonica duo
Tinadre, a dancing duo
Wayne Pugh, a singing pianist
Diane O'Brien, a hammer dulcimer player
Michael McDougal, a singer
Deborah Cable, a pianist
Henry Boerner, a singer
Anna Garlington, a singer/guitarist
Corkey Miller, a stand-up comedian
Early Morning String Dusters, a bluegrass band
Participants range in age from 62-91. Only one act will take home the grand prize of $500. Second- and third-place winners will also receive awards, and Morning Pointe is introducing a People's Choice Award. Show attendees will be able to vote for their favorite act at $1 per vote, with funds going to the Morning Pointe Foundation.
"We are so excited about this year's show," said Miranda Perez, Morning Pointe Foundation executive director. "Each contestant has a unique and fascinating story, and they showcase much of the great talent that the Knoxville area has to offer."
Ted Hall, evening anchor and managing editor for WVLT-TV Channel 8, will serve as the master of ceremonies. Judges include Nicholas Horner, songwriter and founder of Make Music Knoxville; Dale Mackey, co-founder of The Central Collective; James Taylor, gallery owner of Geneva Galleries in Knoxville and winner of last year's Seniors Got Talent, Knoxville; Susan Richardson Williams, a leader in public affairs and business; and Susan Arp, independent fund developer and public relations consultant.
Tickets for Seniors Got Talent, Knoxville can be purchased at the door for $10 or online in advance from the Bijou Theatre website (https://knoxbijou.org/bijou-events/seniors-got-talent-presented-by-morning-pointe-foundation/ ).
Morning Pointe also sponsors similar Seniors Got Talent competitions in Chattanooga and Franklin, Tennessee, as well as Lexington, Kentucky.
Our Presenting Sponsor is ETPS, and high-level sponsors are MedForce Staffing and Propel Insurance. Other sponsors include First Horizon, HealthPRO Heritage, Aphix, Native Design & Hardscape, Life Care Center of Blount County, LifeLoop, HouseCall Primary Care, Gouffon Moving & Storage, UT Hospice, Chick-fil-A at Turkey Creek, Blount Senior Care Partners, ACR Cleaning, Caring Senior Move, Mobile Images, Franklin & Kyle Elder Law, Cornerstone Caregiving, Alzheimer's Tennessee and Right at Home.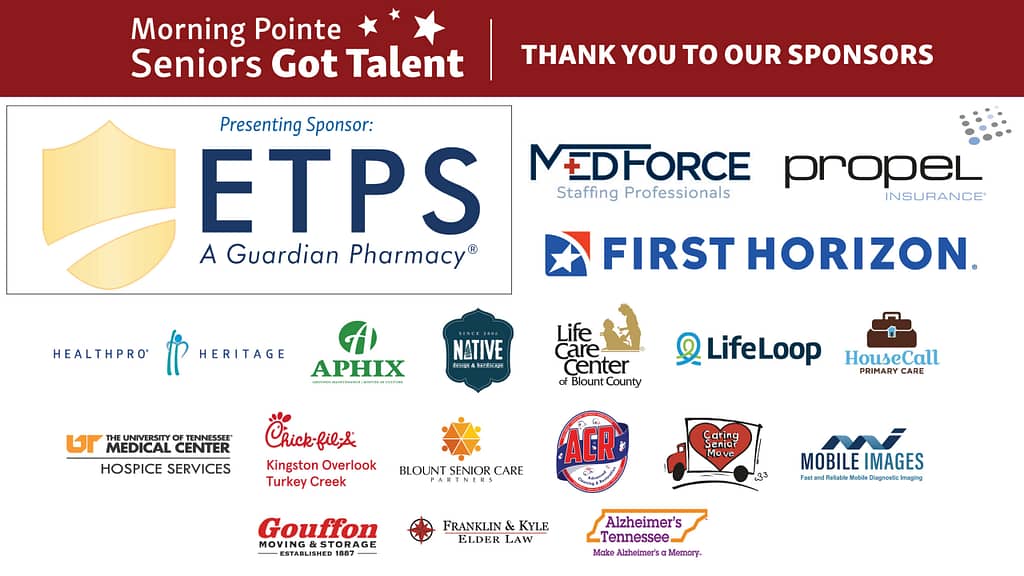 The Morning Pointe Foundation is the philanthropic arm of Morning Pointe Senior Living founded by Tennessee-based senior healthcare entrepreneurs Greg A. Vital and J. Franklin Farrow. The 501(c)3 nonprofit public service organization was created in 2014 to provide caregiver support programs, sponsor educational awareness events, and fund clinical scholarships to advance the care of seniors throughout the Southeast.
Founded in 1997 by Tennessee healthcare entrepreneurs Greg A. Vital and Franklin Farrow, Morning Pointe Senior Living owns and operates 37 assisted living, personal care, and Alzheimer's memory care communities in five southeastern states and is celebrating its silver anniversary in 2022.