At one day away from the Morning Pointe Foundation's Seniors Got Talent show at The Bijou Theatre in Knoxville, the event has sold 435 tickets and counting.
The show, produced in partnership with Morning Pointe Senior Living, starts at 7 p.m. Tickets are $12 plus Ticketmaster and theatre fees and are available at The Bijou Theatre website and at MorningPointeFoundation.com.
The show will open with last year's winner, pianist Deborah Cable, reprising her medley of "Rustle of Spring" and "Clair de Lune."
Performers are ages 63-90 and will include:
The Tuesday Group that Plays on Mondays, dulcimer group, performing a medley of "John Stinson's #2" and "Hangman's Reel"
Lena Anderson, singer/songwriter, performing her original song "On Another Day"
Fourtuitous, barbershop quartet, singing "Coney Island Baby"
Back Pew Poets, singer/guitar/harmonica duo, performing their original song "Jubilee Trail/Hallelujah Road"
Bob Thompson, singer and guitarist, performing "Some Call It Heaven, I Call It Home"
Sandy and the Sandsation Dancers performing "Last Dance"
Jim McGee, singer and guitarist, performing "More Than a Name on a Wall"
Brenda Beeler, singer, performing "God Bless the USA"
The Tennessee Jewels singing, dancing and twirling group, performing to a medley of "Tennessee Waltz" and "Rocky Top"
Calvin Robinson and Gregory Willis, singer and keyboardist, performing "America the Beautiful"
Corkey Miller, comedian, performing an original comedy routine
Prizes will be awarded to the first, second, and third-place winners. The overall winner will receive $500. Also, show attendees will be able to vote for their favorite act at $1 per vote for the People's Choice Award.
The Foundation is the philanthropic arm of Morning Pointe Senior Living. The 501(c)3 nonprofit public service organization was created in 2014 to provide caregiver support programs, sponsor educational awareness events, and fund clinical scholarships to advance the care of seniors throughout the Southeast. Funds from the Seniors Got Talent shows go toward scholarships.
Founded in 1997 by senior healthcare entrepreneurs Greg A. Vital and J. Franklin Farrow, Morning Pointe Senior Living owns and operates 37 assisted living and Alzheimer's memory care communities in five southeastern states. These include eight in the Knoxville area, in Knoxville, Clinton, Hardin Valley, Powell and Lenoir City. The day after the show, Morning Pointe will break ground on The Lantern at Morning Pointe Alzheimer's Center of Excellence at Hardin Valley at 11:30 a.m.
Tour T-shirts will also be available at the show for $20 as a Foundation fundraiser.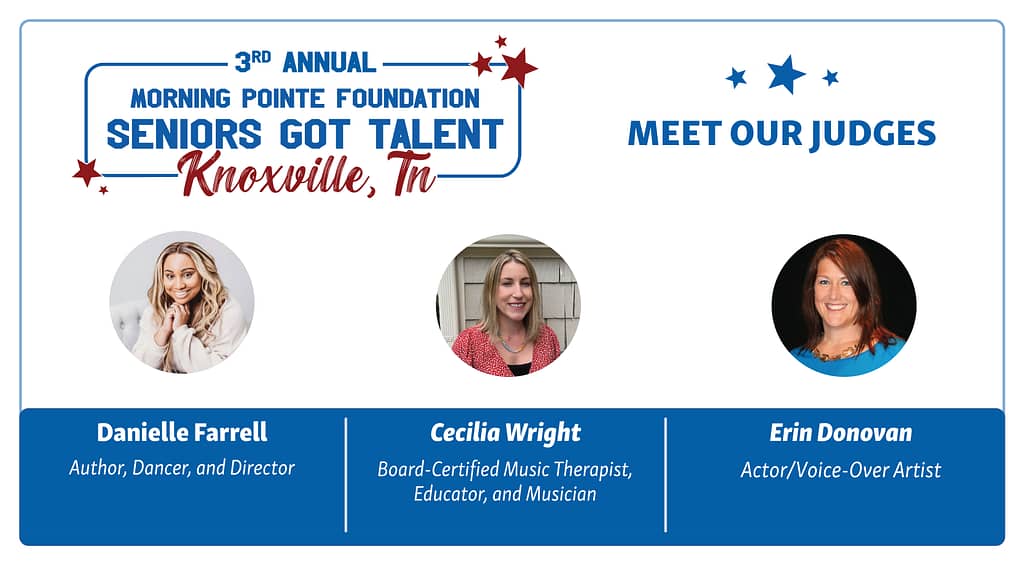 Ted Hall, evening anchor and managing editor at WVLT-TV Channel 8, is returning for the second time as master of ceremonies. Judges will be Danielle Farrell, author, dancer and Artistic Director of Raw Art Dance & Entertainment Dance Academy; Cecilia Wright, board-certified music therapist, educator and musician; and Erin Donovan, actor and voice-over artist.
Sponsors for this year's show include presenting sponsor ETPS, Avalon Hospice, Amada Senior Care, Propel Insurance, MedForce Staffing Professionals, Right at Home, Caring Senior Move, Chick-fil-A, Gouffon Moving and Storage, APHIX Lawn Service, Hillcrest Healthcare, HealthPRO Heritage, HouseCall Primary Care, Trane, Senior Helpers, Yardi, Mobile Images, Hope Springs Adult Day Care Center, UT Hospice, Consolidated Medical, Farm Bureau, Fire Pro Sales & Service, Always Best Care Senior Services, Knoxville Rehabilitation Hospital, Supreme Restaurant Equipment, Just Homes Group, Care Around the Block, and Native Design & Hardscape.
Morning Pointe also sponsors similar Seniors Got Talent competitions in Tennessee in Chattanooga and Franklin, Tennessee, as well as Lexington, Kentucky.