Talented seniors from the greater Lexington area took the stage at the Lexington Opera House on Sept. 12 for the Morning Pointe Foundation's Fourth Annual Seniors Got Talent Lexington showcase.
First place and the $500 cash prize went to singer Ron Cheak, 68, for his swinging rendition of "The Best is Yet to Come."
"It's a lot of fun – you get an adrenaline rush, and I really needed it tonight because I just had my knee replaced," said Cheak with a chuckle. "It's been a long time since I have sung for a crowd this size, so it's a little validation, and that's nice. Thank you, Morning Pointe, very much."
Cheak has been singing for audiences since 6th grade. He surprised everybody at the 4H talent show by singing the challenging "Climb Every Mountain" from "The Sound of Music." Cheak went on to serve as associate pastor and director of music at Finchville Baptist Church in Shelby County, Kentucky. He and his wife, Nancy, put together a band for a fundraising show. They went on to play a lot of shows, including opening for Billy Joe Royal, Peaches and Herb, and Martha Reeves and the Vandellas.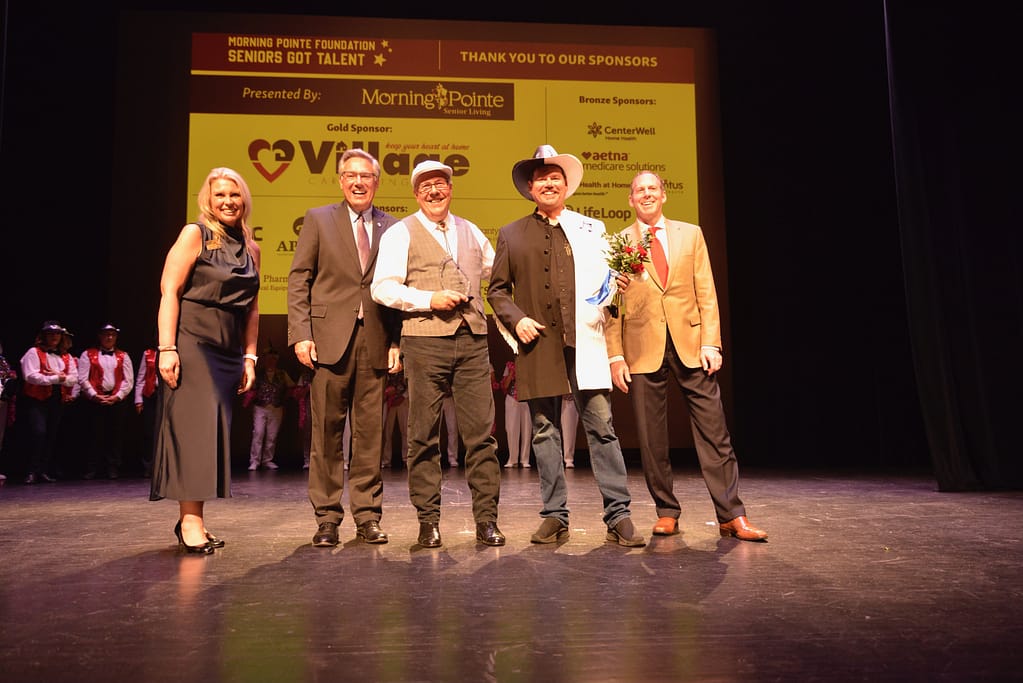 Second place went to duo Collins and Cox, ages 62 and 64. Scott Collins sang, played the guitar and the harmonica, and Ron Cox played the upright bass and sang. They performed a medley of "Hey, Good Looking," "Gentle on My Mind" and "Glory Train."
The two friends have been playing music together off and on for 35 years. They have played at banquets, festivals, churches, restaurants, TV and radio shows and even Historic Renfro Valley in Mount Vernon, Kentucky. They were both in a bluegrass group called Eastbound and were involved in a play based on the life of Hank Williams, "Nobody Could Hurt Like Hank." Collins wrote the play, and both men performed in it.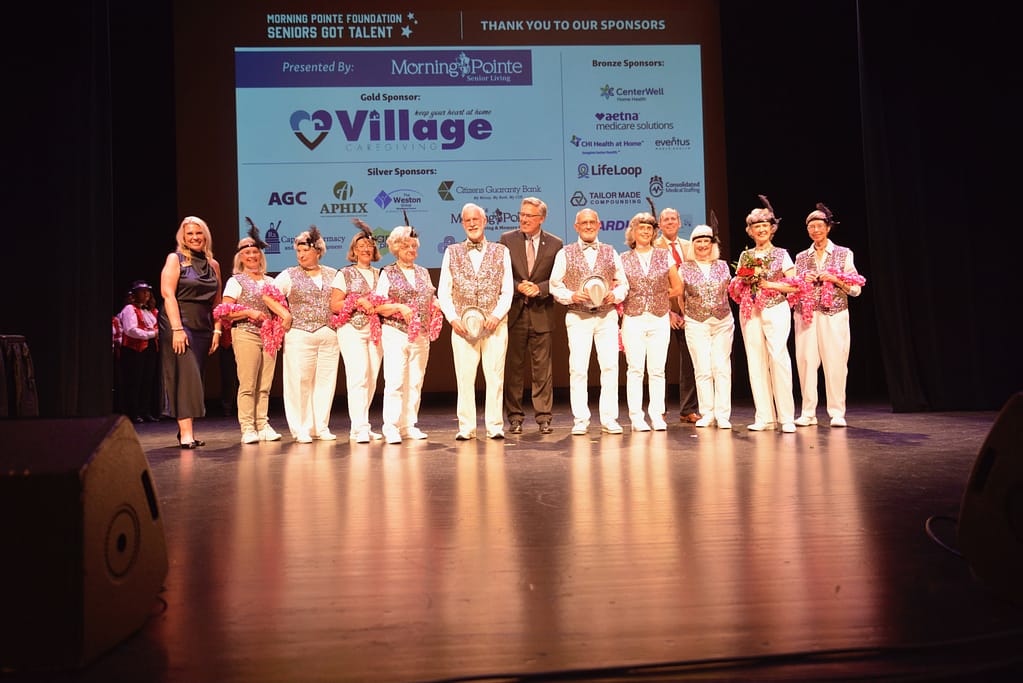 The Glitterbugs dancing group, ages 64-87, took third place, performing to "All That Jazz" from "Chicago."
With their home base at the Capital City Activity Center in Frankfort, Kentucky, the group started in 2013. They have performed throughout the region at church gatherings, community events, and senior communities such as nursing homes and assisted living facilities. They love performing to well-known tunes from all the way back to 1906 to the early 1990s.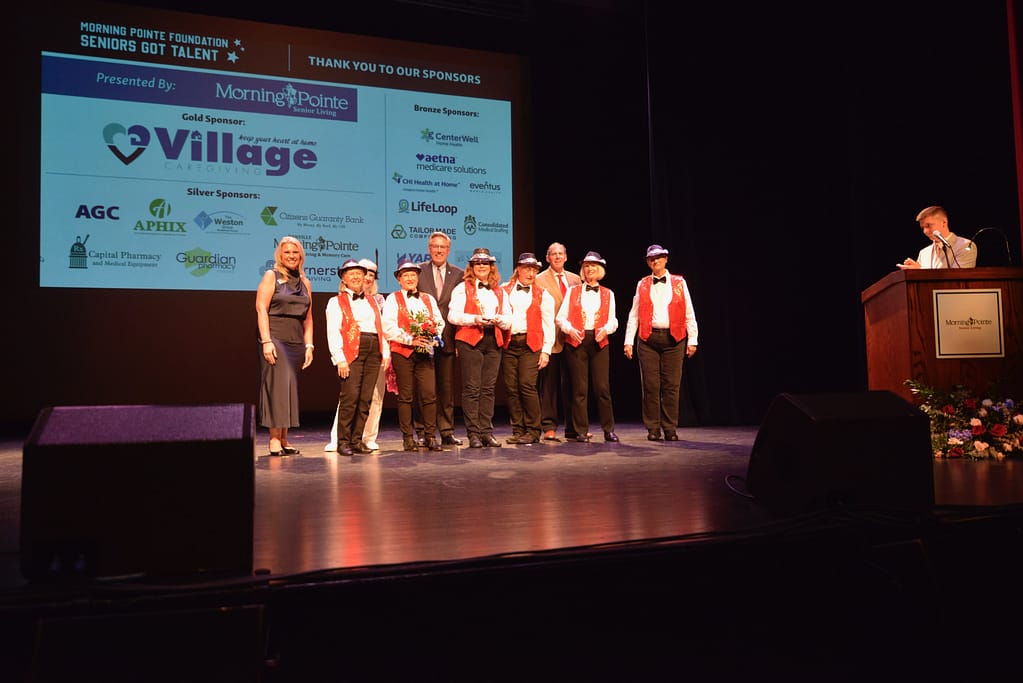 Another dancing group, the Capital Steppers, ages 62-81, took home the People's Choice Award, receiving the most audience votes for their peppy dance routine to "Rock Around the Clock," "Tie a Yellow Ribbon Round the Ole Oak Tree" and "Boogie Woogie Bugle Boy."
The senior talent show was produced by the Morning Pointe Foundation in conjunction with Morning Pointe Senior Living. Almost 300 tickets were sold for the event, which raised $21,000 for the Foundation toward its mission of providing scholarships at partner schools.
The Morning Pointe Foundation is the philanthropic arm of Morning Pointe Senior Living. The 501(c)3 nonprofit public service organization was created in 2014 to provide caregiver support programs, sponsor educational awareness events, and fund clinical scholarships to advance the care of seniors throughout the Southeast.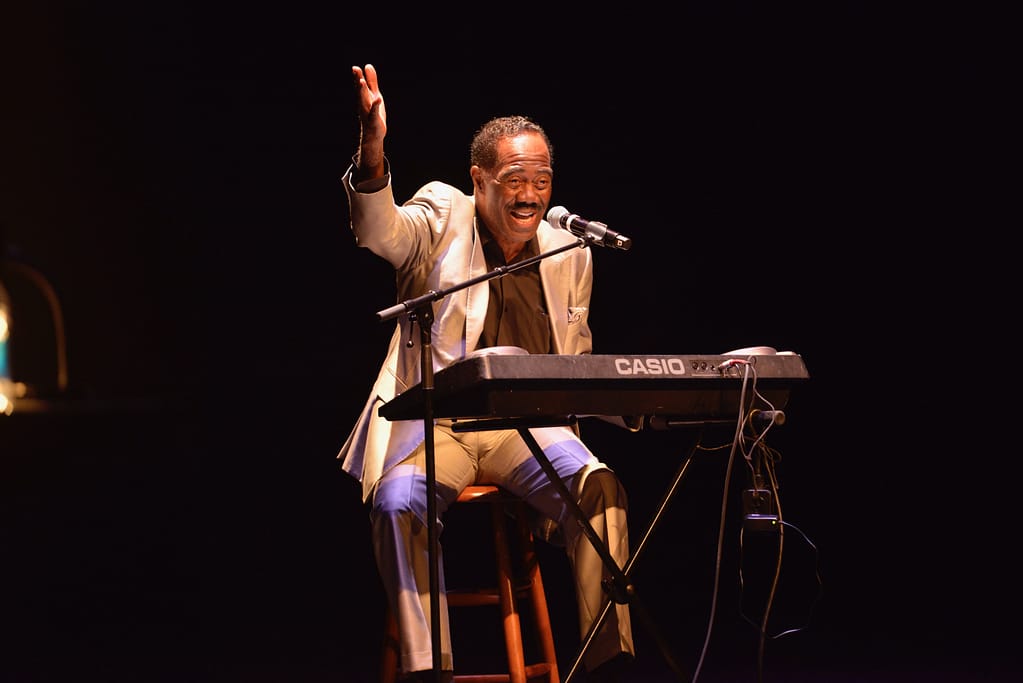 Founded in 1997 by Greg A. Vital and J. Franklin Farrow, Morning Pointe Senior Living owns and operates 37 assisted living, personal care, and Alzheimer's memory care communities in five southeastern states. These include 11 campuses in Kentucky. Morning Pointe of Danville Assisted Living will be the 12th community in Kentucky, estimated to open in late 2024.
Morning Pointe Foundation Executive Director Miranda Perez, shared, "I really was taken aback by one of our contestants, who told me 'This is bucket list stuff, and we didn't even know we needed it on our bucket list.' That was the whole theme of the night. We're just so happy to be able to give seniors this opportunity. It was so heartfelt.
"I was also impressed with the Foundation's partner colleges who came out to support the event," Perez added. "They really enjoyed the show, and it was a perfect example of how our partnerships enrich each other."
Sponsors for this year's show include Village Caregiving; AGC Automotive Americas; APHIX Lawn Service; The Weston Group; Capital Pharmacy; Citizens Guaranty Bank; Morning Pointe of Danville; Guardian Pharmacy; CenterWell Home Health; Aetna Medicare Solutions; CHI/VNA Home Health; Silver Lexington; Eventus Whole Health; Tailor Made Compounding; LifeLoop; Yardi; and Consolidated Medical.
Dillon Gaudet, morning meteorologist at ABC36, served as the master of ceremonies for the second year. Judges included Meaghan Richardson, singer, pianist, songwriter and vocal coach; Richard Ryan, winner of the 2021 Seniors Got Talent show; Austin Robinson, owner and director for Edge Music Therapy, LLC; and Mallory Hudson, the reigning Miss Kentucky.
Morning Pointe also sponsors Seniors Got Talent competitions in Chattanooga, Knoxville and Franklin, Tennessee.