Foundation debuting commemorative T-shirts
The stage is set for this year's Seniors Got Talent, Lexington variety show, produced by the Morning Pointe Foundation in conjunction with Morning Pointe Senior Living at the Lexington Opera House.
The event will take place at 7 p.m. on Sept. 12.
Lutisha Coleman, the pianist who won the 2022 showcase, will be opening the show this year.
The 11 acts on deck include musical duos, dancing groups, singers, pianists, and a Minnie Pearl impressionist, spanning the ages of 62-87.
Prizes will be awarded to the first, second, and third-place winners. The overall winner will receive $500. In addition, show attendees will be able to vote for their favorite act at $1 per vote for the People's Choice Award, with funds going to the Morning Pointe Foundation.
The Foundation is the philanthropic arm of Morning Pointe Senior Living. The 501(c)3 nonprofit public service organization was created in 2014 to provide caregiver support programs, sponsor educational awareness events, and fund clinical scholarships to advance the care of seniors throughout the Southeast.
Founded in 1997 by senior healthcare entrepreneurs Greg A. Vital and J. Franklin Farrow, Morning Pointe Senior Living owns and operates 37 assisted living, personal care, and Alzheimer's memory care communities in five southeastern states. These include 11 campuses in Kentucky. Morning Pointe of Danville Assisted Living will be the 12th community in Kentucky, estimated to open in late 2024.
Seniors Got Talent proceeds go toward clinical scholarships for students at partner colleges.
New this year, the Foundation will be also selling Seniors Got Talent tour T-shirts at the show for $20.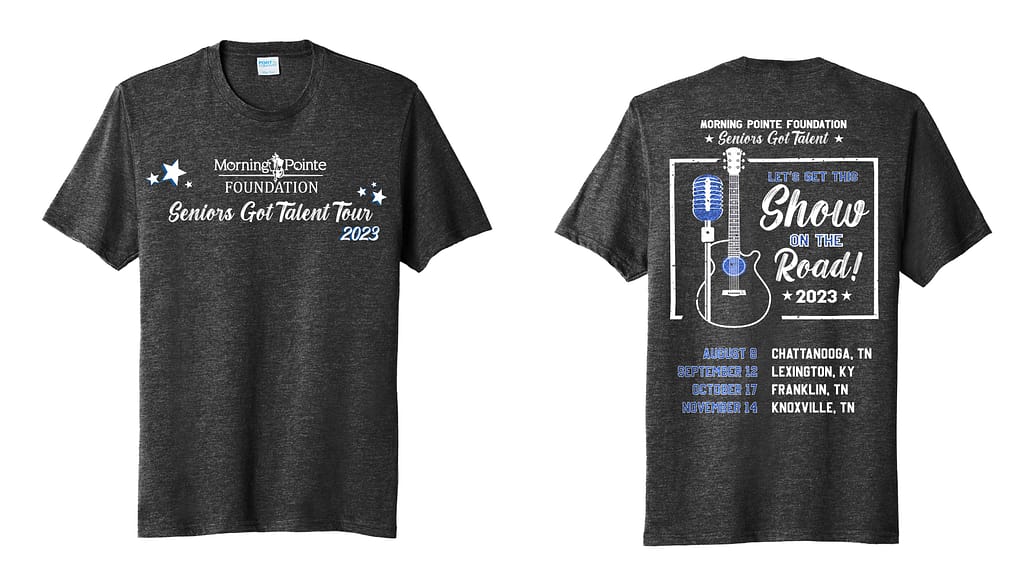 "We are counting down to the show, and I am so excited about our performers, the T-shirts and the enthusiasm surrounding this year's Lexington show!" said Miranda Perez, Morning Pointe Foundation Executive Director. "It's a great family event, a great entertainment value and a great cause!"
Tickets for Seniors Got Talent, Lexington can be purchased for $10 plus taxes and Ticketmaster fees on the Lexington Opera House website.
Dillon Gaudet, morning meteorologist at ABC36, will serve as the master of ceremonies for the second year. Judges will include Meaghan Richardson, singer, pianist, songwriter and vocal coach; Richard Ryan, winner of the 2021 Seniors Got Talent show; Austin Robinson, owner and director for Edge Music Therapy, LLC; and Mallory Hudson, the reigning Miss Kentucky.
Sponsors for this year's show include Village Caregiving; AGC Automotive Americas; APHIX Lawn Service; The Weston Group; Capital Pharmacy; Citizens Guaranty Bank; Morning Pointe of Danville; Guardian Pharmacy; CenterWell Home Health; Aetna Medicare Solutions; CHI/VNA Home Health; Silver Lexington; Eventus Whole Health; Tailor Made Compounding; LifeLoop; Yardi; and Consolidated Medical.
Morning Pointe's Seniors Got Talent is building on a 14-year tradition that began at Morning Pointe of Hixson, Tennessee. Morning Pointe also sponsors Seniors Got Talent competitions in Chattanooga, Knoxville and Franklin, Tennessee.