The United States Army Air Force played an important role during World War II. Claude Hillenbrand, a resident at Morning Pointe of Spring Hill, Tennessee, was part of that force that helped the Allies defeat the Axis powers in Europe.
~
Before the Military
Claude was born on Nov. 6, 1923, in Vincennes, Indiana, and moved to Evansville, Indiana, at age 3. He grew up during the Great Depression and remembers working different jobs during high school, including at a bakery and at a drug store.
He was working at the drug store on Dec. 7, 1941, when the news of the bombing of Pearl Harbor came in.
"I made a delivery and came back in, and they were all just standing there staring at the radio," Claude remembered. "Of course, I wanted to enlist right then, but my mother kept saying no." A year later, things changed, due to the draft. Claude went to the recruiting office to sign up for the Navy Seabees but was turned down. So, he went down the hall and signed up for the Air Force. He was sworn in on Dec. 11, 1942.
~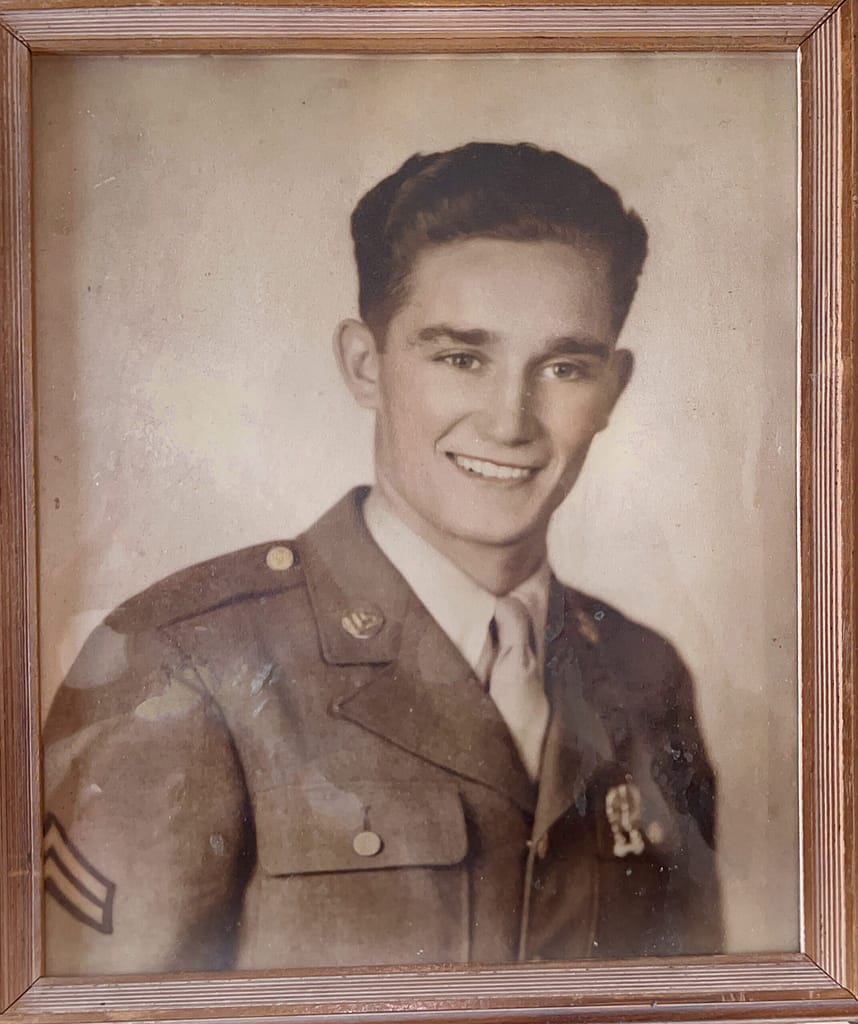 Preparing for Combat
Claude went to Miami Beach, which the military turned from a resort town into a training center for the Air Force. Troops filled the hotels, beaches, golf courses and businesses – running, swimming, learning, drilling, flying and training.
From there, Claude headed to airplane mechanic school in Lincoln, Nebraska, then to Seattle to train on B-17 bombers, then to Kingman, Arizona, to aerial gunner school. When he finished, he was an engineer gunner on the 10-person crew of the B-17 Flying Fortress bomber. As such, he was the highest-ranking enlisted man on the crew. After combat training in Texas, Claude was off to Nebraska and New Jersey in rapid succession. Then, the crew boarded the RMS Queen Elizabeth (sister ship of the RMS Queen Mary) for Europe.
~
Life as a World War II Bomber
After six days at sea, Claude and his crew landed in Glasgow, Scotland, and he was assigned to the 452nd Bomb Group, 730th Bomb Squadron, based out of Deopham Green, England.
On April 29, 1944, Claude flew his first bombing mission, to Berlin.
"We bombed Berlin, but we got [hit] over the target," Claude remembered. "We had to leave the formation before we were out of Germany. Our navigator knew where all the bases were, and he was able to keep us away from most of the fighter bases."
The plane was running out of fuel, though, and the pilot asked Claude for his recommendation. "I said, 'The only thing I know is we get as light as we can,'" Claude remembered. "We had flight suits and helmets and other stuff that was heavy, so I said, 'Well, we'll strip all the flight gear and drop it out. And then I said, 'Any gun that's got extra ammunition, drop it. Radio man, if we've got any radio equipment we can't use, drop it.' We got rid of all that."
A P-38 Allied plane came up behind them with an engine out and flew under the wing of Claude's plane all the way to the English Channel, where he split off to head for his base.
Claude's team looked for a landing space and found a base but couldn't contact anyone there.
"There was a runway, and the pilot said, 'We've got to get down,' and we circled and went to come down on what we thought was a long runway, but when we got there, we saw a building in the middle of it," Claude said. "We had to go over that building and then set down on a short runway. When we taxied up to the end, we parked on the ramp up there, this colonel came up and said, 'Man, you had us sweating! If you had landed on the end there, that's concrete that's just been poured, and you would have had a mess.'"
Over his time in the Air Force, Claude flew 35 missions. Those included three bombing missions to Berlin, three to Munich and several in occupied France. Two missions were to bring supplies to the French Fighting Forces.
At one point, Claude's crew was scheduled to fly over Poland with the destination of Russia, but they were held back for a leak. The planes that went were attacked by the Germans, and only three flew back.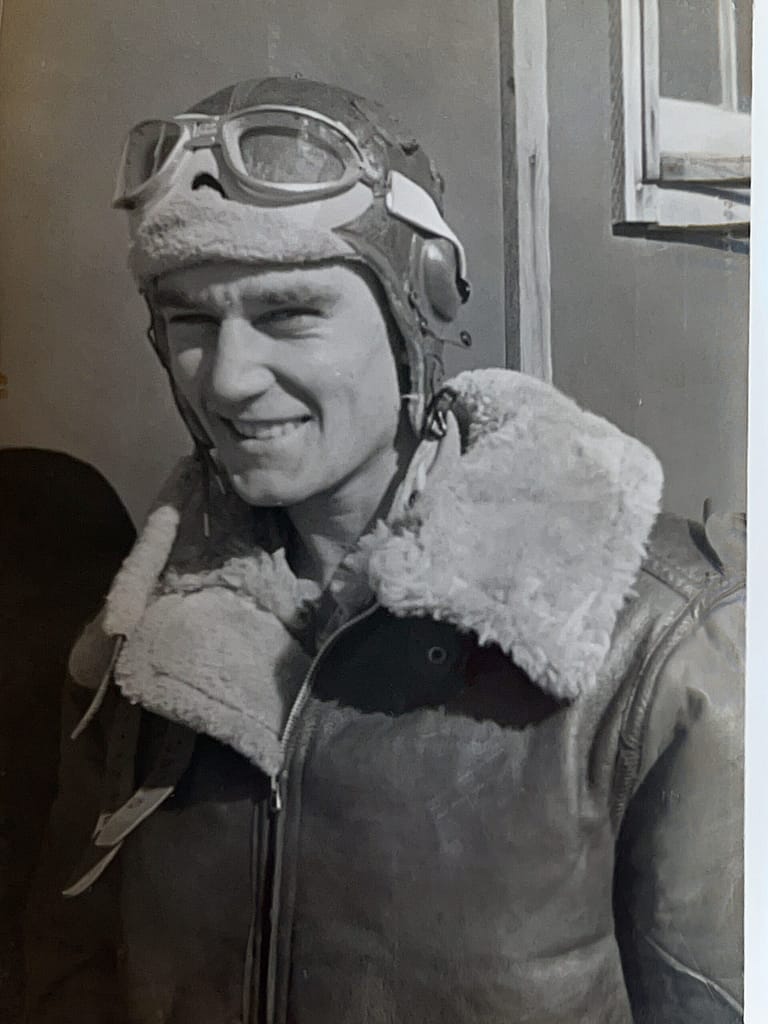 On a mission to Munich, Claude's plane had an engine knocked out while they were over the target. They turned back.
"We were coming in to land [at the base]," Claude remembered. "Just before we could touch down, the control tower said, 'Runway blocked! Go around!' Co-pilot automatically hit the landing gear; it started up, and when he went to full power, we lost another engine and landed across a field on the belly of that airplane. The remarkable thing was that not one of our crew got a scratch."
On another mission, Claude remembers that the radio man forgot to turn off the plane's IFF (Identification Friend or Foe) transponder when their group flew across the English Channel. When they got to the target, enemy troops were able easily to get the information they needed (such as altitude and speed) to attack the plane.
"In three minutes, they were able to knock three planes completely down," Claude said. "Ours was shot up so bad that when we landed they said the plane was so shot up that they would just junk it."
But again, no one in Claude's aircraft was injured.
"The good Lord had his guardian angels with us," Claude said.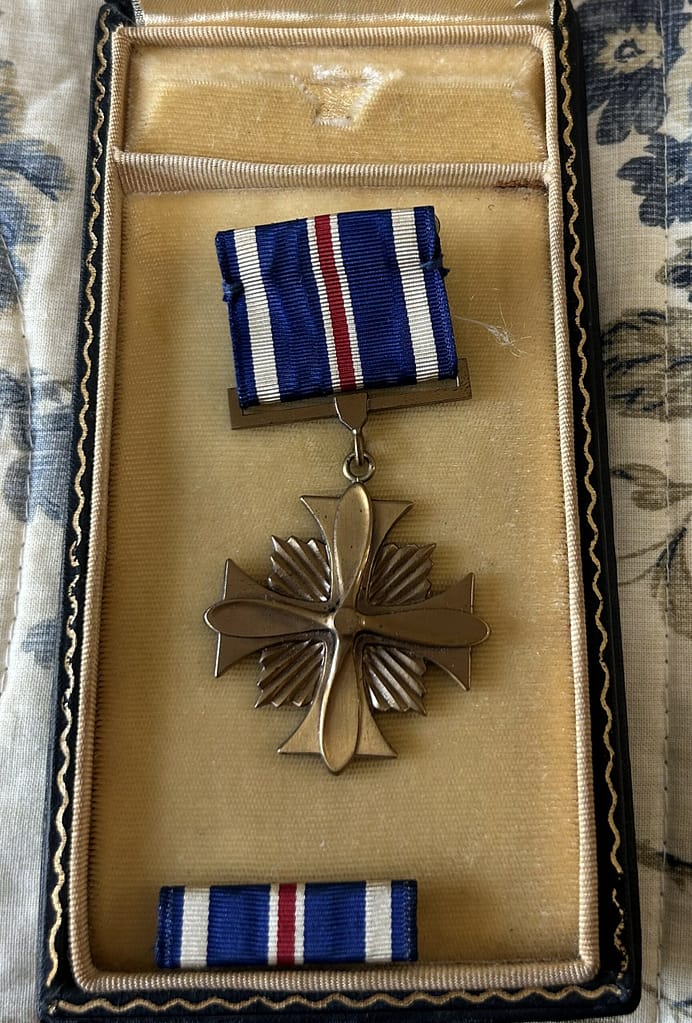 Claude earned the Distinguished Flying Cross for flying four major battles and doing an outstanding job helping keep the planes safe. He also earned an Air Medal.
One time, the ball turret gunner could not get rotated to where he could get back into the plane. Without tools to loosen the bolts, Claude took a barrel off of a gun so that he and the navigator could break the bolts to get him out.
Claude's favorite missions, however, were flying supplies over the French Alps. "That's the most beautiful country I've ever seen," he shared.
The day before D-Day, Claude bombed a railroad bridge in France. "When we come back and see the Channel, that Channel was just full of ships, we knew something was going to happen."
Claude himself took part in the Air Force's role on D-Day. His plane flew to the French coast, and it was cloudy. The bombardier was very cautious about where they dropped the bombs, not wanting to bomb the Allies by mistake.
"We were the last ones to bomb before the assault troops came in," Claude said.
The Normandy invasion was the beginning of the end of the war.
"We bombed the outskirts of Paris on our last mission," Claude shared. "We started with Berlin and ended with Paris."
~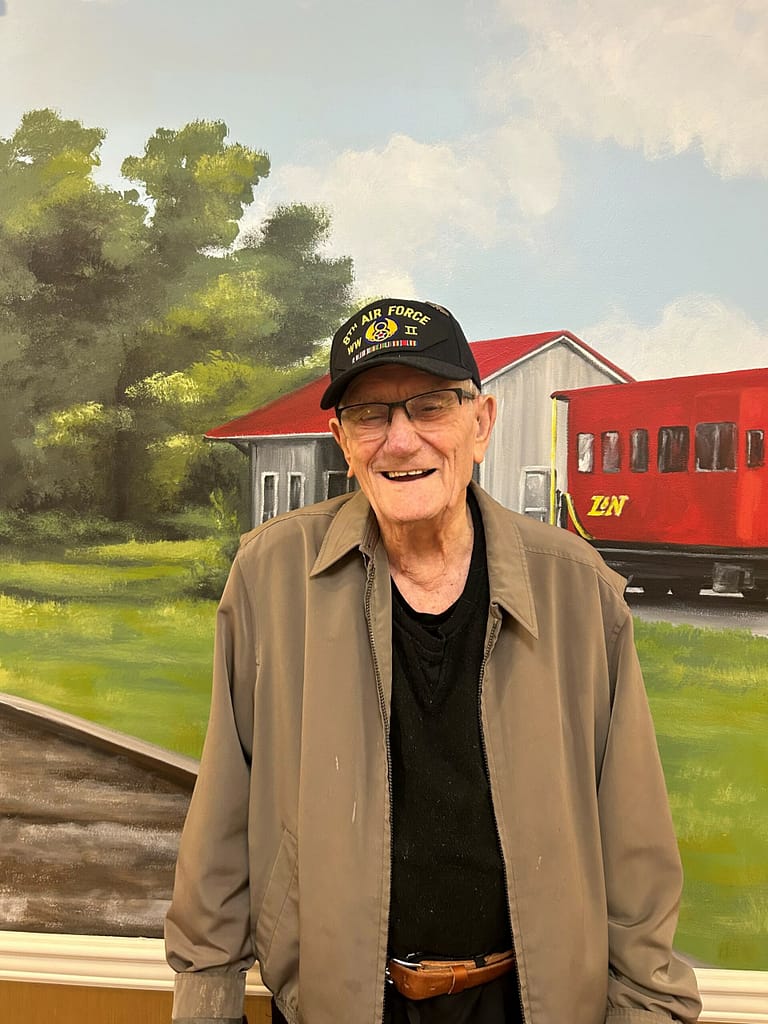 Civilian and Family Life
Claude had enlisted for the duration of the war, plus six months, so he served in the Air Force for three years. He discharged as a technical sergeant with five stripes and went home to the States. He helped his uncle on his farm for a while before moving to Tennessee.
Starting at Smyrna Air Base near Nashville in December 1945, Claude worked on B-24 aircraft. He met his wife, Mae, who was from Leoma, Tennessee, in March 1946, and they married.
The Hillenbrands had three sons. Claude enjoyed coaching their baseball team when they were young, as well as serving as a Boy Scouts leader. Their oldest son went into the Army and served in the Vietnam War, retiring as a captain. His two younger sons both served several years in the National Guard.
Claude worked for the Louisville and Nashville (L&N) Railroad for three years as a brakeman, which he enjoyed, and then drove a tractor trailer for 32 years. He was 67 when he retired.
After that, Claude joined one of his sons in a kitchen remodeling business.
Unfortunately, Mae passed away of Parkinson's disease after 52 years of marriage.
A few years later, Claude met Barbara, a widow, and the two of them fell in love. They were married for 18 years until she passed away as the result of a stroke.
~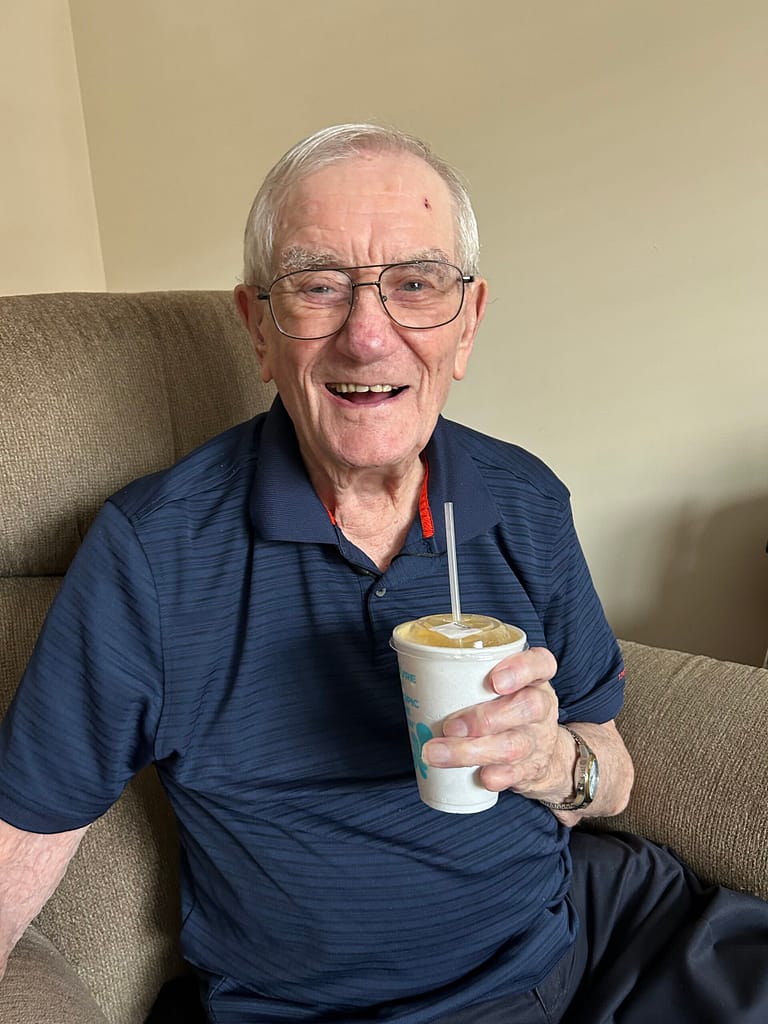 Coming to Morning Pointe
"I had to live by myself after Barbara died, and I got to where I hated to cook, and I just wasn't eating and I was losing weight," Claude shared.
His sons discussed the situation and decided to start looking at assisted living communities. They chose Morning Pointe of Spring Hill, Tennessee.
"This one just stood out to us," Claude said. "I would recommend this place to anyone who's needing to go to assisted living. Everybody here has been wonderful to me. There's always someone to help if you need it."
Claude enjoys several of the perks at the building, including the weekly smoothies on Tropical Tuesday, scenic rides, the men's group, and the veterans group.
In looking back on his life, he shared that he is most proud of his sons.
Claude, we are proud of you and your service to your country. We are glad you are part of our Morning Pointe family!