The stage is set for this year's Seniors Got Talent, Franklin variety show, produced by the Morning Pointe Foundation in conjunction with Morning Pointe Senior Living at The Franklin Theatre.
The event will take place at 7 p.m. on Oct. 17. Tickets are going fast – as of Sept. 28, about 40 were left.
"We sold out a spectacular show last year at The Franklin Theatre and are about to sell out of this year's now that word has gotten out about what a fun show this is," said Miranda Perez, Morning Pointe Foundation Executive Director. "What could be better than giving these seniors a chance to fulfill their dreams… while at the same time supporting local students?"
Dancing duo Lane Wilkinson and Nancy Stuenkel, who won the 2022 showcase, will open the show this year.
The 12 acts on deck include singers, pianists, guitarists and a baton twirler, spanning the ages of 62-90.
The first, second, and third-place winners will receive prizes. The overall winner will receive $500. Show attendees will also be able to vote for their favorite act at $1 per vote for the People's Choice Award. Funds go to the Morning Pointe Foundation.
The Foundation is the philanthropic arm of Morning Pointe Senior Living. The 501(c)3 nonprofit public service organization was created in 2014 to provide caregiver support programs, sponsor educational awareness events, and fund clinical scholarships to advance the care of seniors throughout the Southeast.
Founded in 1997 by senior healthcare entrepreneurs Greg A. Vital and J. Franklin Farrow, Morning Pointe Senior Living owns and operates 37 assisted living and Alzheimer's memory care communities in five southeastern states. These include seven campuses in Middle Tennessee – in Franklin, Brentwood, Spring Hill, Tullahoma and Columbia.
Seniors Got Talent proceeds go toward clinical scholarships for students at partner colleges.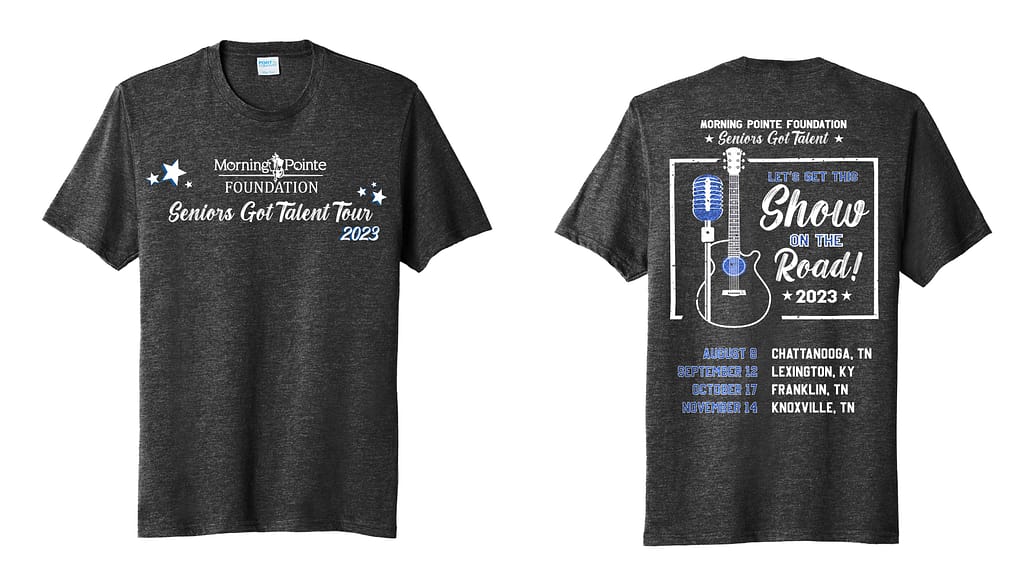 New this year, the Foundation will be also selling Seniors Got Talent tour T-shirts at the show for $20.
Tickets for Seniors Got Talent – Franklin are available for $10 plus a small theatre fee at The Franklin Theatre website and at MorningPointeFoundation.com.
Lisa Spencer, chief meteorologist at News4 WSMV, is returning for the fourth time as master of ceremonies. Judges include Rich Eckhardt, one of the most well-known guitarists in Nashville; Alex Tinker IV, Open Mic Night emcee at Leiper's Fork's on "Fox and Locke"; Jim Hagaman, mayor of Spring Hill who has been involved in musical performance and theater; and Mackenzie Wasner, up-and-coming country music artist.
Sponsors for this year's show include MTPS, Propel Insurance, Gentiva, Iris Medical Group, BlueSky HouseCalls, HealthPRO Heritage, Birdrock Laboratories, AccentCare, Gordon Foods, Yardi, Aveanna Home Health and Hospice, Amedysis, Consolidated Medical, The Key: Home Care Assistance, Stay Home Care and Adoration Health.
Morning Pointe's Seniors Got Talent is building on a 14-year tradition that began at Morning Pointe of Hixson, Tennessee. Morning Pointe also sponsors Seniors Got Talent competitions in Chattanooga and Knoxville, Tennessee, and Lexington, Kentucky.