Foundation to debut commemorative T-shirts
The stage is set for this year's Seniors Got Talent, Chattanooga variety show, produced by the Morning Pointe Foundation in conjunction with Morning Pointe Senior Living.
The event will take place at 7 p.m. on August 8 at the Silverdale Center Creekside Theatre at 7236 Bonny Oaks Drive. The Silverdale Center Creekside Theatre is part of the Silverdale Baptist Academy campus.
Acts on deck include a line dancing group, singers, guitarists, a doo-wop band, a choir, pianists and a tap dancer. They span the ages of 64-88.
Prizes will be awarded to the first, second, and third-place winners. The overall winner will receive $500. In addition, show attendees will be able to vote for their favorite act at $1 per vote for the People's Choice Award, with funds going to the Morning Pointe Foundation.
The Foundation is the philanthropic arm of Morning Pointe Senior Living founded by Tennessee-based senior healthcare entrepreneurs Greg A. Vital and J. Franklin Farrow. Seniors Got Talent proceeds specifically go toward clinical scholarships for students at partner colleges.
New this year, the Foundation will be also selling Seniors Got Talent tour T-shirts at the show for $20.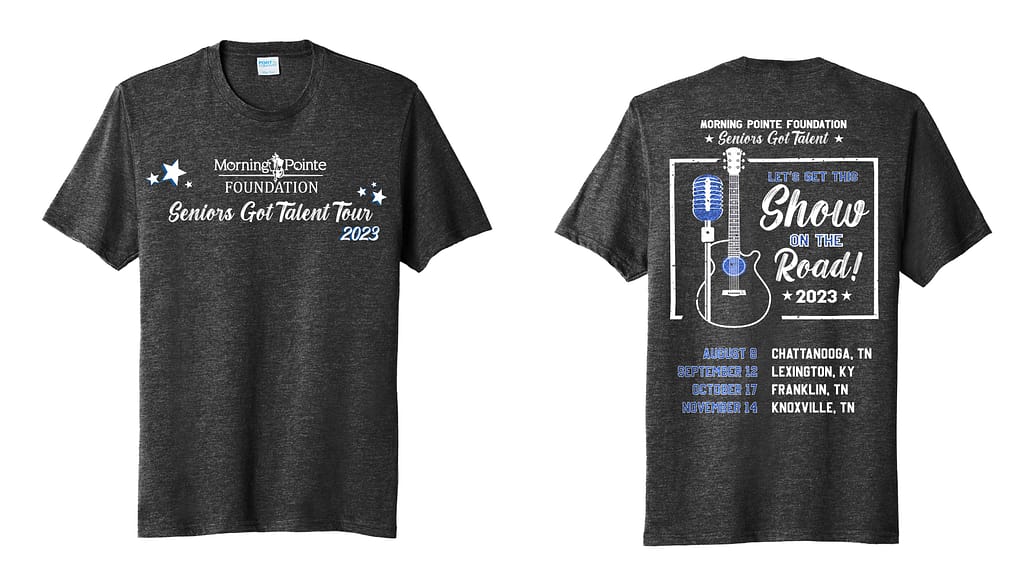 "We are counting down to the show, and I am so excited about our performers, the new venue, the T-shirts and the enthusiasm surrounding this year's Chattanooga show!" said Miranda Perez, Morning Pointe Foundation Executive Director. "It's a great family event, a great entertainment value and a great cause!"
Tickets for Seniors Got Talent, Chattanooga can be purchased for $10 at https://morningpointefoundation.com/seniorsgottalent/. Seating is general admission.
Greg Funderburg, director of marketing for the Urban League of Chattanooga and former anchor at WTVC Newschannel 9, will serve as master of ceremonies. Judges include Rodney Van Valkenburg, executive director of the Chattanooga Theatre Centre; Steve Darmody, award-winning Christian recording artist; Ashley Rogers, a former Miss Tennessee at Cosmos United States Pageants and owner of Magic Lamp Entertainment, Knoxville Princess Parties and Kid Quest Expo; and Danielle Farrell, founder and artistic director for Encounter Artistic Movement.
Sponsors for this year's show include AccentCare/Guardian; Team Darmody Keller-Williams; Russ Blakely & Associates, LLC; Debbi Meyers; Tallanted Interiors; Supreme Restaurant Equipment; James Fire Protection, LLC; Gordon Foods; ArtsBuild; Hearth Hospice; Yardi; Live Oak Caregivers, LLC; The Weston Group; Heritage Funeral Home; CarePatrol; Avail Senior Living; Hickory Valley Retirement; Conway Twitty United; The University of Tennessee at Chattanooga School of Nursing; ShiftKey, LLC; McKee Foods; AVA; Mobile Imaging; Kennedy Jewelers; MCA of Chattanooga; Senior Helpers; Ascension Living Alexian Village; Consolidated Medical; First Horizon Bank; BloomHeart; and Boundless Moving.
Morning Pointe's Seniors Got Talent is building on a 14-year tradition that began at Morning Pointe of Hixson, Tennessee. Morning Pointe also sponsors Seniors Got Talent competitions in Knoxville and Franklin, Tennessee, as well as Lexington, Kentucky.
Founded in 1997 by Vital and Farrow, Morning Pointe Senior Living owns and operates 37 assisted living, personal care, and Alzheimer's memory care communities in five southeastern states. These include six campuses in Chattanooga, Ooltewah and Hixson. The 38th Morning Pointe community, Morning Pointe at Happy Valley, is slated to open in Walker County, Georgia, in late 2023.