Good friendships have a way of sticking around. This is certainly the case for Carolyn Redmond (85), Kathleen "Kathy" Willinger (83), and Rose Esterle (82).
These three ladies started a friendship in their youth and now continue to hang out together as friends (and neighbors) at Morning Pointe of Louisville, Kentucky, Senior Living.
It all started in high school. Rose and Kathy went to Presentation Academy together for high school, and later, they added Carolyn to their number after meeting her at a Knights of Columbus square dance. That was about 42 years ago.
The trio started a tradition of getting together on Friday nights to eat out at restaurants together. Rose worked at a bank until her kids were born, and Carolyn was a secretary until her third child. Kathy stayed home until her kids were in school and then became a payroll clerk. Between the three of them, they had 14 children, and it was relaxing to be able to get together with likeminded women and share about their lives.
Fast-forward to their golden years. Their children are grown, and they are enjoying their grandkids and great-grandkids. They have stayed friends all these years and stayed in contact.
In spring of 2022, Carolyn found herself needing some assistance.
"I was having a hard time doing everything [myself]," she explained.
Carolyn's daughter helped her look for a senior living community, and they decided on Morning Pointe of Louisville, five minutes away from her daughter. She moved in in July 2022.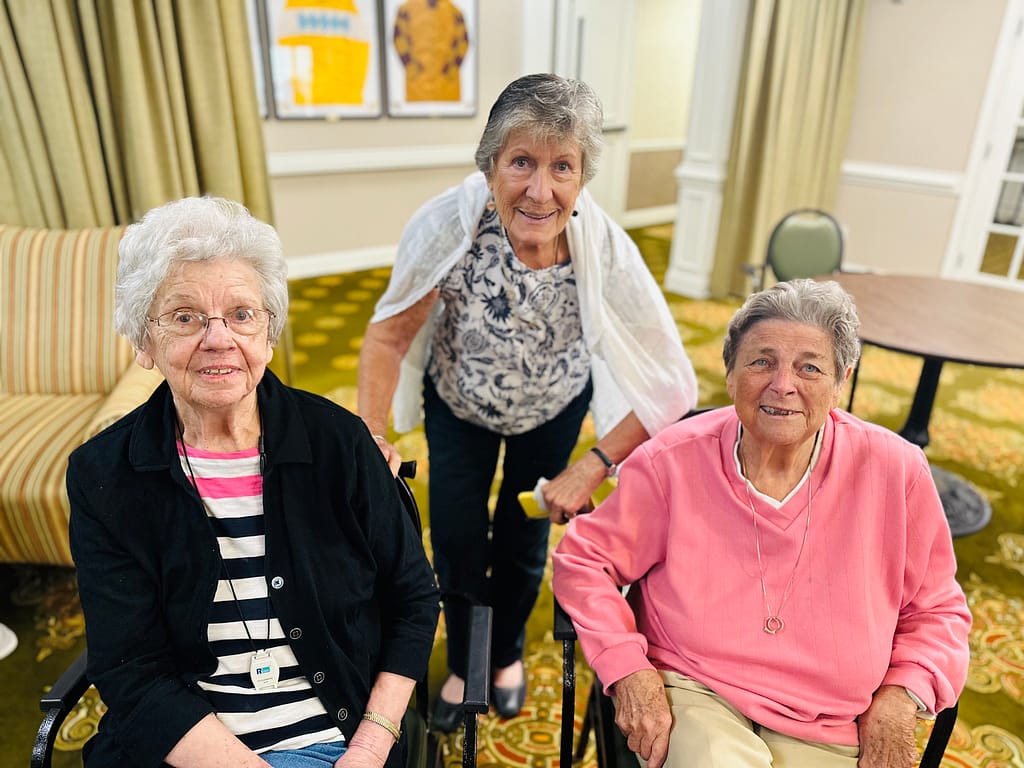 Rose was the second of the group to move in to an apartment at Morning Pointe. She came in December 2022.
"My children didn't want me to be alone," she said. "I'm not far from my kids."
Kathleen made her decision to move in partly due to her daughter's research and partly because her friends were already there and loving it! She came in August 2023.
Now, the ladies' favorite time together is just like it was in the past – sharing meals. Besides the food, they enjoy sitting on the porch together when the weather is nice and participating in the rosary and mass together (they also share the Catholic faith).
"We just kind of hang out together and sit together," said Rose. "I'm grateful to be here. It's a beautiful place. All the workers are awesome and friendly. Anything you need – they're right there for you."
Kathy agreed and added, "I'm glad we can all be together."
Ladies, Morning Pointe of Louisville is glad to be not only your home but also part of your friendship journey!