Irma Troxler, a resident at Morning Pointe of Tullahoma, Tennessee, has lived through and been part of much of Middle Tennessee's history.
Born in 1922 in Nashville, Irma and her four older siblings were reared in Wartrace, Tennessee. Her mother passed away when she was little, and her father remarried, wedding her first and second-grade teacher.
After graduating high school, Irma attended Ward Belmont College (now Belmont University) and later worked in the office of Ralph Rogers Construction Company, which was building roads in Oak Ridge, Tennessee.
Irma married John Troxler in 1943. He worked for the railroad selling tickets to soldiers. Not only was it wartime, but just down the road in Tullahoma, Tennessee, was Camp Forrest, an Army training base and prisoner-of-war/internment camp. As a result, soldiers were in and out of the area all the time. In fact, the new camp changed the area radically, raising the population of Tullahoma from 4,500 to 7,500 by the end of the war, according to the Arnold Air Force Base website!
John entered the military himself and served 26 months in Europe as a radio operator and later driving trucks delivering mail from the airport to the post office in Berlin.
"He said when the war ended, he learned about it before a lot of the higher-ups did," Irma said.
While her husband was away, Irma played her own role in the war effort and started working at Camp Forrest in the personnel office of the prisoner of war camp in 1944.
"I did a lot of typing," Irma explained. "I typed the prisoners' names, serial numbers, where they were from, and their camp in the U.S. A lot were from Germany."
She never got to know the prisoners, though they were the ones who cleaned the office, in addition to doing other jobs in the camp and at local farms. One of them gave her a bracelet made from aluminum he found around the camp, and she still has it to this day.
When the war ended, Camp Forrest was disbanded. The prisoners were sent back to Europe.
"I have heard that a lot of them went home and then came back to America to live," Irma said.
Many had adapted to American culture during their time there and found more of a future for themselves in the States.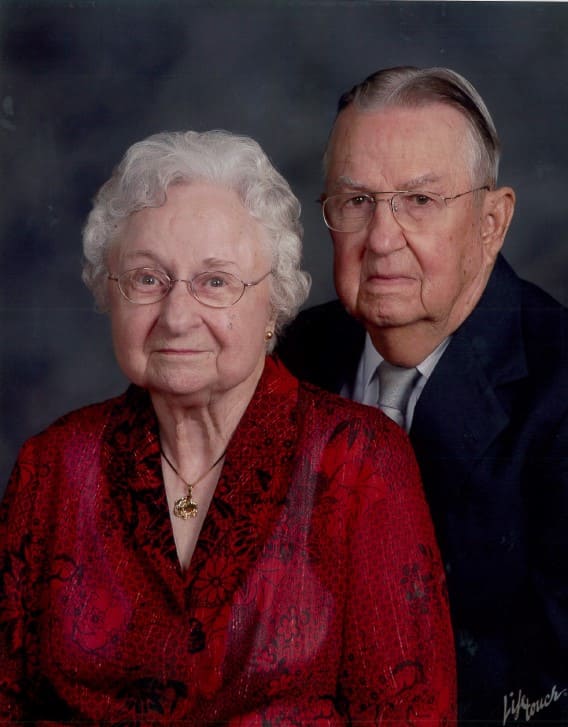 With the end of the war, John returned and continued to work for the railroad. The couple went on to have two daughters, Elaine and Beverly. Irma embraced her new role as a wife and mother.
She especially loved cooking and sewing!
"My husband said, 'If you pass on before I do, I'm going to have them put, "Queen of the Casseroles" on your tombstone,'" Irma laughed.
Irma made dresses for herself and her girls. She took a tailoring class and made herself a suit and later a coat for one of her daughters. She did a lot of embroidery – pillows, pictures and queen-size quilts.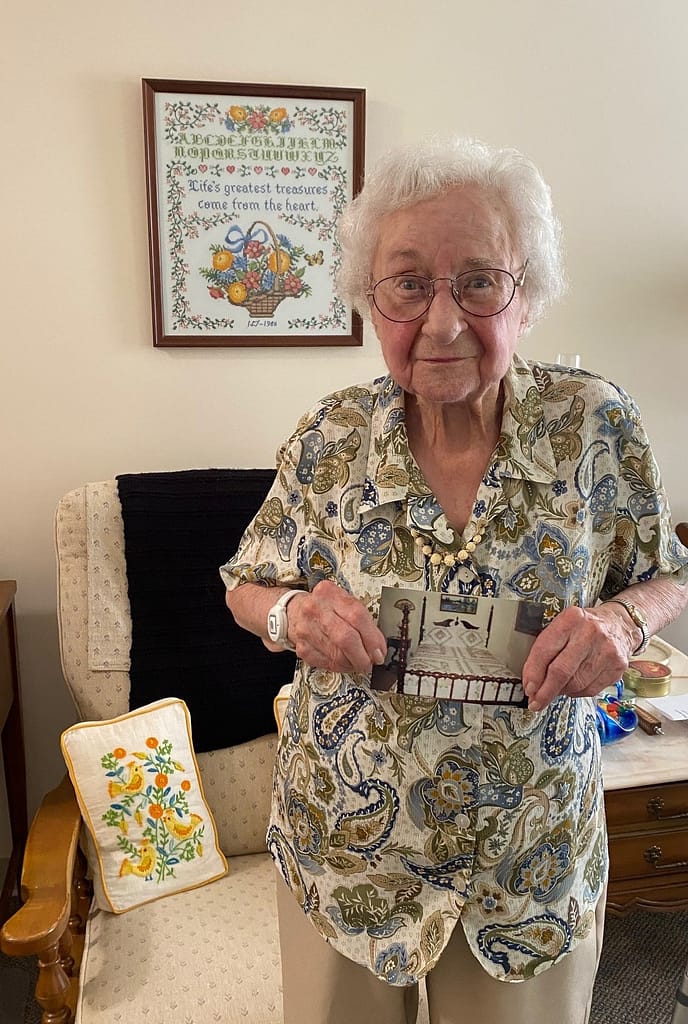 The family later moved to Tullahoma, and Irma got a job as a bookkeeper for Farm Bureau. She and John became charter members of the King's Cross Church in Tullahoma, where Irma is still an active member.
John passed away in 2017, after 73 wonderful years of marriage. From their two children, Irma now has two grandsons and four great-grandchildren.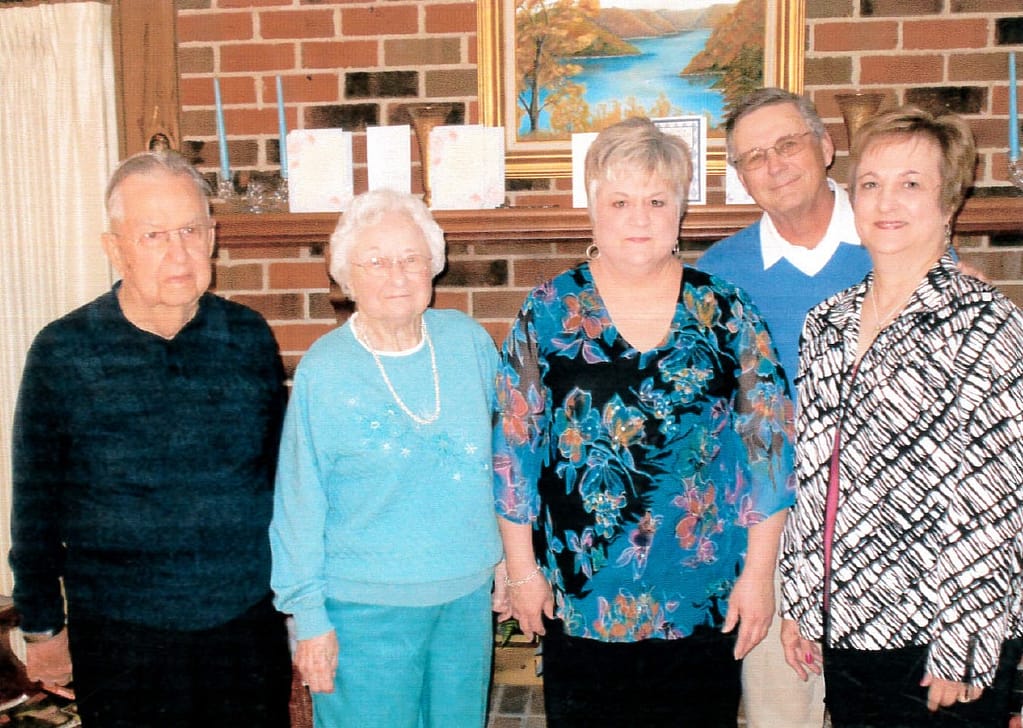 Irma moved to Morning Pointe of Tullahoma in 2019.  "I have been in Tullahoma since 1974 and knew when this building was built," Irma said. "I knew people who had lived here. The staff and Resident Assistants have been helpful and so good to me."
One of the first residents at the community was John's cousin.
What does she like most about living in the assisted living community?
Maybe it's sharing her recipes from years of experience cooking, such as her recipes for bran muffins, hush puppies, and cherry salad.
Or maybe it's bingo.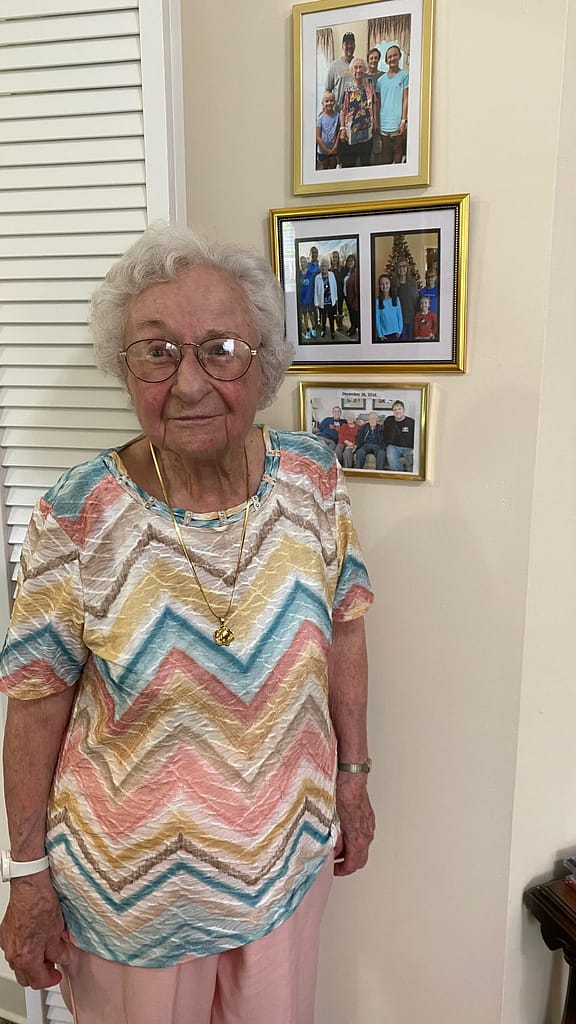 "I just thank God every day for my health," Irma said, "and I try to live the life He wants me to live."
Irma will turn 100 this November, and we are so thankful she is part of our Morning Pointe family!